Kids Keeping Oral Health in Mind from Early Age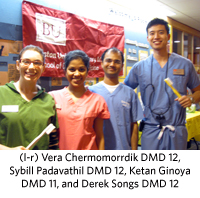 The Boston Children's Museum, in partnership with the Boston Public Schools (BPS), recently held another one of their year-round School Readiness Events, tying in with their Countdown to Kindergarten initiative. This event took place at the Haynes Early Education Center in Roxbury.
Countdown to Kindergarten is a year-long process that helps parents register their child for kindergarten at BPS, and includes connecting parents with resources that help children thrive in school. Each year CHP and Boston University Henry M. Goldman School of Dental Medicine (GSDM) student volunteers attend Countdown events to provide dental screenings to children, host tooth brushing and arts and crafts stations, and distribute toothbrushes and oral health information to children and parents.
"CHP has participated in the city-wide Countdown to Kindergarten event for many years," said Oral Health Promotion Director Kathy Lituri. "The mini year-round events offer yet another opportunity to reach out to families and promote oral health as a key aspect for preparing children for kindergarten and success in school."
GSDM student volunteers included Ketan Ginoya DMD 11, Sybill Padavathil DMD 12, Vera Chermomorrdik DMD 12, and Derek Songs DMD 12.