HSDA Students Learn How to 'Celebrate the Past and Change the Future'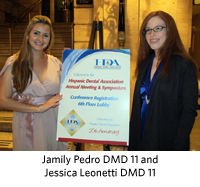 Boston University Henry M. Goldman School of Dental Medicine (GSDM) students Jamily Pedro DMD 11 and Jessica Leonetti DMD 11 attended the Hispanic Dental Association Annual Meeting and Symposium held at the historic Palmer House Hotel in Chicago from October 28 to 31. This year's annual meeting was also a celebration of the Association's 20-year anniversary, and as a result the theme of the meeting was, "Celebrating the Past and Changing the Future."
Pedro and Leonetti were selected to represent the GSDM chapter of the Hispanic Student Dental Association (HSDA) at the meeting. Pedro is the Secretary of the chapter and Leonetti is an active member. Other dental students from across the US also attended the meeting and the chapter representatives were able to share their ideas and projects with one another.
At the meeting Pedro and Leonetti also learned a lot about oral health and the Hispanic Community. Pedro explained, "The mission of the HDA is to serve as the leading voice for Hispanic oral health, and as such they provide service, education, advocacy, and leadership for the elimination of oral health disparities in the Hispanic community."