GSDM Responds to MassHealth Cuts with Revamped BUMP UP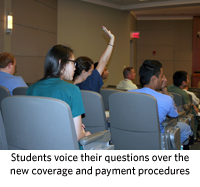 A meeting to discuss new coverage and payment procedures that will take effect on July 1, in the treatment centers at Boston University Henry M. Goldman School of Dental Medicine (GSDM) was held on June 15.
In response to the MassHealth coverage cuts, GSDM has resurrected and restructured a program that was created the last time Massachusetts made cuts to MassHealth adult dental coverage. The program, Boston University MassHealth Patient Upgrade Program (BUMP UP) provides basic restorative services at deeply discounted prices to MassHealth patients with some ability to pay. All procedures must be paid for in advance. The School is shaving the prices on these services as much as is possible, virtually eliminating any profit margin. However members of the School who came up with this plan, including Assistant Dean for Predoctoral Clinical Education Dr. John Guarente, Associate Dean for Clinical Services Dr. Stephen DuLong, Dean Jeffrey W. Hutter, and Executive Director of Finance & Operations Tim McDonough and his team, feel that the plan is necessary in order to continue to provide a strong clinical experience for students and serve existing patients from the local community.
"We want to continue to take care of our patients and provide them with the basic services needed for good oral health at reasonable prices," said Dr. DuLong. "In addition, BUMP UP will give GSDM a competitive edge over private dentists who can no longer afford to provide these services to MassHealth patients. Hopefully this will allow us to expand our patient pool to further the clinical experience gained by our students."
Dr. Guarente also reminded students that, "Direct procedures (listed as BD in our fee booklet), including prophylaxis, amalgams, and composites will be covered by MassHealth until July 1. Also, if you have an appliance that is in progress you should be doing all that you can to ensure that this appliance will be finished over the summer. You have few restrictions to booking in the treatment center in July and August so please take advantage of this opportunity."