Space Programming Process Gets Underway at GSDM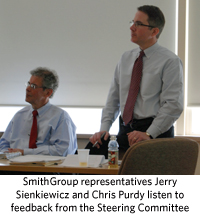 On Monday April 26, representatives of the SmithGroup—the architectural firm selected to work with Boston University Henry M. Goldman School of Dental Medicine (GSDM) on facility issues—arrived at the Dental School to conduct space assessment interviews with various GSDM groups. Chris Purdy, Jerry Sienkiewicz, and David Johnson led the SmithGroup team and conducted the majority of the interviews. The goal of the trip was for the SmithGroup representatives to gain a better understanding of the School's space needs.
During the three-day visit more than 20 interviews were conducted with every available department and group within the School, including the Steering Committee for this project, the Dean's Advisory Board (DAB), and members of the student government.
The Steering Committee for this project is comprised of the following faculty and staff: Ms. Joanne Beer, Dr. Serge Dibart, Mr. Andrew Burke, Ms. Lori Brady, Dr. John Guarente, Dr. Celeste Kong, Dr. Aldo Leone, Mr. Tim McDonough, Dr. Carl McManama, Dr. Leslie Will, Dr. Thomas VanDyke, Dr. Thomas Kilgore, and Dr. Steven Roberts.
The next step will be for the SmithGroup to synthesize the collected information and develop a master plan for the School. Throughout this process there will also be continuous conversations taking place between the SmithGroup and the Applied Strategic Planning Committee, to make sure that the master plan aligns with the vision for the School that the ASP Committee has developed. The SmithGroup's next visit to GSDM is scheduled for June 16-17.
Photos from a variety of the space assessment interviews are available on the GSDM flickr account and Facebook page.