Spotlight on the Greater New York Alumni Club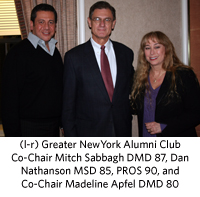 The Boston University Henry M. Goldman School of Dental Medicine (GSDM) Greater New York Alumni Club held a continuing education event on February 3 that drew a large crowd of area alumni.
GSDM Professor & Chair of Restorative Sciences/Biomaterials Dan Nathanson MSD 85, PROS 90 presented a lecture titled, "What Don't We Know About New Ceramic Technologies?"
The lecture, like most Greater New York Alumni Club events, was held at the Cornell Club and included a reception and dinner. Each attendee was awarded 3 CEUs for participation. The Club will be hosting two similar events in the coming months.
The first, a lecture by Eric Linden DMD 83 titled, "Laser Periodontal Surgery," will be held on March 24. The second, a lecture by John Santopolo ENDO 78 titled, "A Day in the Life of an Endodontist," will be held on May 5.
To RSVP to either of the upcoming lectures contact Christine Haigh, 617/638-4891.
Photos from the lecture are available on the GSDM flickr account.