Dental Students and Professionals Head to the State House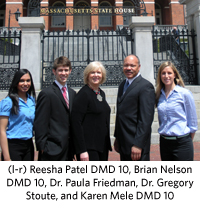 On May 20, the Massachusetts Dental Society held its annual Beacon Hill Day, where dentists from across Massachusetts gathered at the State House to meet with their elected representatives. In February, the MDS released their Call to Action, a five-year plan that aims to improve oral health across the Commonwealth. Beacon Hill Day coincides with the beginning of the 2009-2010 session at the State House and this event provided participants with an opportunity to emphasize the importance of the Call to Action plan to the appropriate legislators along with other bills on the MDS legislative agenda.
Students from the Boston University Henry M. Goldman School of Dental Medicine (GSDM) chapter of the American Student Dental Association (ASDA) lead by Brian Nelson DMD 10 participated in the event along with GSDM geriatric dentistry fellow Arghavan Shahidi DMD 01, Associate Professor and Director of Minority Affairs Dr. Gregory Stoute, and Clinical Assistant Professor Dr. Frank Schiano.
GSDM Associate Dean for Administration and Chair of the MDS Council on Public Affairs Dr. Paula Friedman spoke at the event, welcoming dental students and professionals to the morning briefing session that gave participants an overview of the MDS legislative agenda and tips on how to effectively communicate with legislators.
"Supporting organized dentistry and being engaged in the political process is as much a part of being a professional as taking impressions, cutting tooth preparation, doing implants, or placing a veneer," said Dr. Friedman. "It's important for our voices to be heard on issues that benefit the oral health status of citizens of the Commonwealth."