NIH Grant Lets Dr. Judith Jones Study Oral Health-Related Quality of Life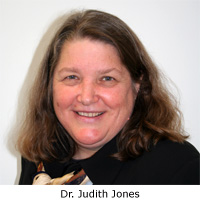 Oral conditions impact more than a child's health; they affect the quality of life of both the child and his or her family. Department of General Dentistry Professor and Chair Dr. Judith Jones will study to what extent oral conditions impact quality of life as the recipient of a five-year, Midcareer Investigator Award in Patient Oriented Research from the National Institutes of Health (NIH).
The award will allow Jones to focus on patient-oriented research and mentorship.
"I am particularly pleased that the NIH is recognizing my efforts to mentor junior faculty and students in patient-oriented research," Jones says. "It is an honor and a pleasure to work with the next generation of scientists. We learn as much from them as they do from us."
Dr. Jones will work with Director of Predoctoral Pediatric Dentistry Dr. Dara Cunnion; Clinical Instructor Dr. Christina Patrianakos-Papageorgiou; Assistant Professor Dr. Bing Liu; and students Raffi Miller DMD 09; and Shailza Dhawan, Joel Kim, Erica Kullberg, and Adam Swenson, all DMD 10.
In addition to supporting research on the impact of oral conditions on quality of life of children and their families, the award will fund Outcomes of Dental Care in BUSDM Patients. The Outcomes project measures change in oral health from the patient's perspective after treatment at BUGSDM.