ASDA Students Lobby on Capitol Hill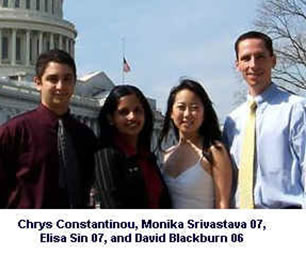 BUSDM's American Student Dental Association (ASDA) joined more than 170 dental students from across the country in Washington, DC April 5 and 6 for the 2005 National Student Lobby Day.
Representatives David Blackburn DMD 06, Britt Soden DMD 06, Monika Srivastava DMD 07, Elisa Sin DMD 07, and Chrys Constantinou DMD 08 lobbied U.S. congressmen to support legislation that permits refinancing consolidated student loans and provisions that allow borrowers to deduct the full amount of interest paid on income taxes.
BUSDM students meet with 11 U.S. senators and House representatives including Sen. Jack Reed (D-RI), Sen. Olympia Snowe (R-ME), and Sen. Jon Kyl (R-AZ).
Dental political advocacy is a key component for ASDA and ADEA, sponsors of the 2005 National Student Lobby Day.