BU Castle Hosts Jong, Knutson Awards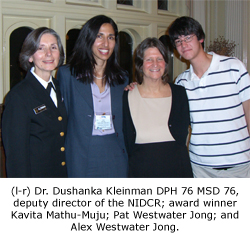 Approximately 70 BUSDM faculty, students, and friends gathered at BU Castle November 6 as the American Public Health Association's (APHA) Oral Health Section presented the first annual Anthony Westwater Jong Memorial Community Dental Health Student Awards and John W. Knutson Distinguished Service Award in Dental Public Health sponsored by Colgate Oral Pharmaceuticals and OMNI Preventive Care.
The awards honor two leaders in the field of dental public health: the late Anthony Westwater Jong, former associate dean of BUSDM and chair of the Department of Dental Care Management, and John W. Knutson, former president of the APHA.
This is the first year the Oral Health Section has granted the Jong Award, which is the first student award given by the group. Gabrielle Cannick and Brandi Jackson received pre-professional student awards and the post-professional student award went to Kavita Mathu-Muju. All three students completed community oral health research or service projects.
John Brown, professor and chair of the Department of Community Dentistry at the University of Texas Health Science Center, received the Knutson Award for outstanding contributions to dental public health.
"With the addition of the Jong Award, we can recognize up-and-coming dental professionals along with those who have dedicated their lives to oral health," says Kathy Lituri, co-chair of the 2006 Student Awards Committee. "It's great to acknowledge both ends of the spectrum."
The ceremony coincided with the APHA's 134th Annual Meeting and Exhibition November 4-8 in Boston. Dr. Raul Garcia, chair of the Department of Health Policy and Health Services Research, and Dr. Wanda Wright, assistant professor, have served as APHA section councilors.