KL2 Scholar Traci N. Bethea Awarded K01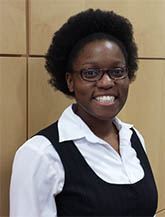 Dr. Traci N. Bethea received a 2017 KL2 scholarship for "An assessment of whether aspirin improves breast cancer outcomes in Black women and modifying effect of genetic variants." Within 5 months of Dr. Bethea' s CTSI scholarship, she was funded by the NIH for a K01 career development award. Her award provides an opportunity to receive training in cancer survivorship and in molecular epidemiology. The research focus of her K01 award will be on breast cancer survivors in the Black Women's Health Study (BWHS). Dr. Bethea's K01 research focuses on two modifiable exposures – aspirin/nonsteroidal anti-inflammatory drug use and vitamin D status – that may influence breast cancer outcomes and considers potential interaction with genetic factors, which will be instrumental in identifying populations that may benefit from pharmaceutical intervention.
During her K01 award, she will continue her research on breast cancer subtypes, ovarian cancer, and neighborhood socioeconomic status in African American women and will contribute to research endeavors in the BWHS. In the next few years, she would like to develop new research directions to complement her K01 award. As a K awardee, Dr. Bethea was invited to join the first cohort of the CTSI PRIME program, where she will continue to be supported on her path to an R01.
All Success Stories