INFORMATION, POSTPONEMENTS, & CANCELLATIONS
• Helpful Guidelines for Remote Work – Managers & Employees.
• If you have a confirmed case of COVID-19, OR you are quarantined by a physician or governmental agency, you will need to complete the Mandatory Quarantine Absence Form.
• Any research protocol involving direct clinical benefits (infusions, injections, oral medications) to study participants will continue to be implemented in the GCRU.
• Biostatistics Drop-In Sessions have been canceled until further notice. Please contact Howard Cabral and Janice Weinberg for any statistical questions.
---
Community Discussion about COVID-19
The importance of engaging our local community in a discussion about COVID-19 became a priority during the pandemic. The existing partnership with three other MA CTSA's (Tufts, Harvard, UMass) CE Programs, was leveraged to collaboratively organize a recurring COVID-19 Community Forum series.
---
COVID-19 BIOREPOSIORY
The COVID-19 Biorepository is an institutional resource available to Boston Medical Center (BMC) and Boston University (BU) researchers interested in biologic samples collected from BMC patients. The goal of the Biorepository is to support innovative and impactful science on the SARS-CoV-2 virus. The Biorepository contains 1) discarded clinical samples from BMC patients (both patients with and without COVID-19), and 2) samples collected from a prospective cohort study of hospitalized BMC COVID-19 patients, with sample collection from ambulatory COVID-19 patient and COVID-19 survivor arms set to begin imminently.
---
CTSI RESPONSE TO COVID-19 PANDEMIC
Our goal was to accelerate the process of translating COVID-19 lab findings into medical practice and treatments to improve the health and well-being of a diverse patient population.
---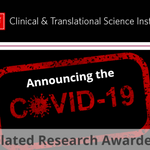 BU CTSI FUNDS 21 COVID-19 RELATED RESEARCH PROJECTS in 2020
A total of 61 applications were received from 145 Investigators, of those 21 were awarded a combined total of $431,562.The BU CTSI congratulates all of these outstanding researchers for their efforts toward solving the COVID-19 pandemic.
---
COVID-19 PUBLICATIONS
FUNDING OPPORTUNITIES
• Information for NIH Applicants and Recipients of NIH Funding
• Funding Opportunities Specific to COVID-19
• Grants & Funding non-specific to COVID-19
---
Pragmatic Clinical Studies (PCS) to Evaluate Patient-Centered Outcomes – Cycle 1 2021
PFA opens: January 5  |  Town Hall: January 14   |  LOI due: February 2
COVID-19 Vaccine Development: Behind the Scenes
Years of research enable a COVID-19 vaccine to be developed in record time.
Developing a vaccine and bringing it to market often takes many years. But because of work that NIH was already doing when the COVID-19 pandemic began, researchers were able to come up with vaccines for this new virus much faster.
---
COVID Vaccine Facts
Find answers to your questions about COVID-19 vaccines.
• What is a vaccine?
• How are Vaccines Developed?
• How will we know a vaccine is safe?
---
NIH COVID-19 Community Engagement Alliance (CEAL) AGAINST COVID-19 Disparities
CEAL focuses on addressing misinformation around COVID-19, engaging trusted partners and messengers in the delivery of accurate information, and educating communities on the importance of inclusion in clinical research to overcome COVID-19, and most importantly, health disparities.
---
Combat COVID
Clinical trials need people from all age groups, races, ethnicities, and backgrounds. On this website, you can find information about clinical trials you can participate in as well as ways to donate blood and plasma that will lead to prevention and treatment breakthroughs to benefit everyone.
---
---
OpenData | COVID-19
NCATS is generating a collection of datasets by screening a panel of SARS-CoV-2-related assays against all approved drugs. These datasets, as well as the assay protocols used to generate them, are being made immediately available to the scientific community on this site as these screens are completed.
---
N3C Data Enclave
The N3C Data Enclave is a secure platform through which the harmonized clinical data provided by our contributing members is stored. The data itself can only be accessed through a secure cloud portal hosted by NCATS and cannot be downloaded or removed. N3C invites you to begin your journey with the Enclave and join the collaborative efforts of our partners to better understand and address the most pressing COVID-19 clinical questions.
---
---
LitCovid
LitCovid is a curated literature hub for tracking up-to-date scientific information about the 2019 novel Coronavirus. It is the most comprehensive resource on the subject, providing central access to 80588 (and growing) relevant articles in PubMed. The articles are updated daily and are further categorized by different research topics and geographic locations for improved access.
---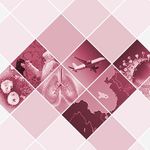 NEJM Covid-19 Articles and Resources
A collection of articles and other resources on the Coronavirus (Covid-19) outbreak, including clinical reports, management guidelines, and commentary.
---
COVID-19 Pandemic Information
News Highlights