Engaging Students
Engaging students depends on so much more than just what we do in the classroom.
Engaging students involves a set of activities: developing your own voice as a teacher, planning all aspects of the course, choosing materials and using them thoughtfully, deciding how to assess student learning and doing the actual grading, and, of course, managing the classroom environment.
It's not just what you do in the classroom that determines how engaged students will be with your course. The way you frame the course is just as important.
Teaching isn't about the passive transfer of information to students.  Students learn in different ways and how much they remember depends on the way they learned.
Design activities to challenge students
Additional resources
Slides from presentation by Professor Doug Zook of the Boston University School of Education on how to challenge and stimulate students.
Blythe H. and C. Sweet (1998) It works for me! Shared tips for teaching. New Forums Press: Stillwater, OK.
Blythe H. and C. Sweet (2002) It works for me, too! More shared tips for effective teaching. New Forums Press: Stillwater, OK.
Derek Bok Center, Harvard University (1992) Twenty Ways To Make Lectures More Participatory (Tips for Teachers).
Davis B. G. (1993) Tools for Teaching. San Francisco: Jossey-Bass Publishers.
Graduate Teaching Center, Yale University.
McKeachie W. J. (1999) Teaching Tips: Strategies, Research, and Theory for College and University Teachers. Boston, MA: Houghton Mifflin Company.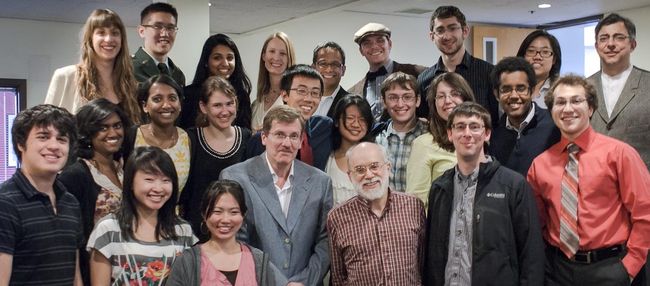 Top row (left to right): Amelia Walcek; Kevin Stoll; Natasha Dilwali; Kathryn Spilios; Manher Jariwala; Michael Thees; Jan Makkinje; Vanessa Thai; Nicholas Gross;
Middle row (left to right): Sushi Subburamu; Jyotirmaie Suryadevara; Rebecca Lauzon; Chenzhe Cao; Yi Feng; Aaron Brug; Stephanye Doucett; Luai Zakaria;
Bottom row (left to right): Erik Lindgren; Jennifer Tran; Alexis Knaub; Thomas Hunt; Peter Garik; Adam Moser; Daniel Friedman