Daniel Daneshvar
MD/PhD Student at BUSM; Postdoctoral Researcher at the CTE Center; SLICE Co-Founder and Director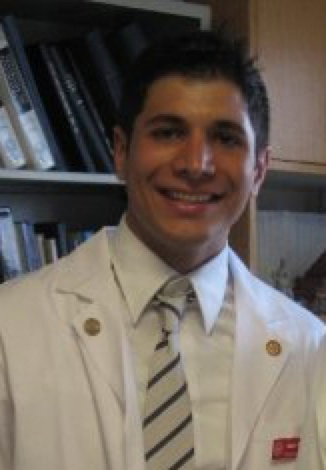 Phone: 617-414-8382
Fax: 617-638-5679
Email: ddanesh@bu.edu
Location: Robinson – Suite 7800
Dan Daneshvar completed the degree requirements for a Ph.D. in Behavioral Neuroscience in 2013, en route to M.D./Ph.D. dual degrees expected in 2016.  He received a Bachelor of Sciences from the Massachusetts Institute of Technology in Brain and Cognitive Sciences with Concentrations in Cognitive Neuroscience and Poetry. He joined the joined the CTE Center at Boston University School of Medicine in January 2009.
CTE Center Role
Dan works at the CTE Center, whose mission is to conduct research on the long-term effects of repetitive head impacts in athletes, including Chronic Traumatic Encephalopathy (CTE).  His research focuses on characterizing and identifying the relationship between exposure to repetitive head impacts, and its effect on the development of CTE.  In addition, he studies the incidence and prevalence of CTE in high risk populations. He also coordinates the donation of tissue to the SLI-BU CTE Brain Bank.

As a former high school and collegiate athlete, Dan also works at the Sports Legacy Institute (SLI) as the co-founder and director of the Sports Legacy Institute Community Educators (SLICE) program.  The mission of SLICE is to educate high schoolers about the risks of concussions, as well as how to identify and manage concussions in students and their friends and teammates.  These presentations are offered as a free service to the community.  They are specifically tailored to the audience, and are relevant to individual sports teams, groups of teams, and non-athletes. To date, there are nine chapters of SLICE internationally, and SLICE programs have educated over 10,000 students. If interested in having SLICE speak to your school or team, please contact Dan by phone or email to learn more and schedule a presentation.
Dan previously worked at the CTE Center on the Longitudinal Examination to Gather Evidence of Neurodegenerative Disease (LEGEND) and Brain Donation Registry Studies.  The LEGEND study follows current and retired athletes annually to track the relationship between athletic history and cognitive, behavioral, and mood symptoms.  The Brain Donation Registry study allows individuals to indicate that they wish to donate their brains upon death to the SLI-BU CTE Brain Bank for neuropathological analysis.  Dan previously worked at the Alzheimer's Disease Center (ADC) examining the effects of thyroid disorders and smoking on dementia.  Dan also worked on the Driving and Dementia Caregiver Intervention Study, where he interviewed caregivers to assess whether a series of educational/support group meetings could increase caregivers' knowledge of how dementia affects driving and increase communication about the driving issue between the caregiver and care recipient.
Research Interests
Dan is interested in studying potential risk factors for CTE, as well as better determining the clinical and neuropathological progression of the disease.
Publications
Robbins CA, Daneshvar DH, Picano J, Gavett BE, Baugh CM, Riley DO, Nowinski CJ, McKee AC, Cantu RC, Stern RA. Defining concussion: an empirical analysis of concussion reporting using a specific definition of concussion. Am J Sports Med (under review)
Kroshus E, Daneshvar DH, Baugh CM, Nowinski CJ, Cantu RC.  Evaluating the effectiveness of NCAA concussion education guidelines in ice hockey.  Br J Sports Med (under review)
Stern RA, Daneshvar DH, Baugh CM, Seichepine DR, Montenigro PH, Riley DO, Fritts NG, Stamm JM, Robbins CA, McHale L, Simkin I, Stein TD, Alvarez VE, Goldstein LE, Budson AE, Kowall NW, Nowinski CJ, Cantu RC, McKee AC. Clinical Presentation of Chronic Traumatic Encephalopathy. Neurology. (in press)
Seichepine DR, Stamm JM, Daneshvar DH, Riley DO, Baugh CM, Gavett BE, Tripodis Y, Martin B, Chaisson C, McKee AC, Cantu RC, Nowinski CJ, Stern R.  Profile of self-reported problems with executive functioning in college and professional football players. J Neurotrauma. 2013 Feb 19. (Epub ahead of print)
McKee AC, Stein TD, Nowinski CJ, Stern RA, Daneshvar DH, Alvarez VE, Lee H-S, Hall GF, Wojtowicz SM, Baugh CM, Riley DO, Kubilus CA, Cormier KA, Jacobs MA, Martin BR, Abraham CR, Ikezu T, Reichard RR, Wolozin BL, Budson AE, Goldstein LE, Kowall NW, Cantu RC. The Spectrum of Disease in Chronic Traumatic Encephalopathy, Brain, 2012 Jan; 136: 43-64.
Bagley AB, Daneshvar DH, Schanker B, Zurakowski D, D'Hemecourt C, Nowinski CJ, Cantu RC, Goulet K.  Evaluation of SLICE Program: Medical Student-led Concussion Education of Student-Athletes. Clin J Sports Med. Clin J Sport Med. 2012 Sep; 22(5):  385-9.
Gavett BE, Lou KR, Daneshvar DH, Green RC, Jefferson AL, Stern RA.  Diagnostic Accuracy Statistics for Seven Neuropsychological Assessment Battery (NAB) Test Variables in the Diagnosis of Alzheimer's Disease. Applied Neuropsychology Adult.  2012; 19(2):  108-115.
Stern RA, Riley DO, Daneshvar DH, Nowinski CJ, Cantu RC, McKee AC.  Long-term consequences of repetitive brain trauma: chronic traumatic encephalopathy. PM R. 2011 Oct; 3(10S2):  S460-7.
Daneshvar, D.H. , Baugh, C.M., Nowinski, C.J., McKee, A.C., Stern, R.A., & Cantu, R.C. (2011). Helmets and mouth guards:  The role of personal equipment in preventing sport-related concussions. Clinics in Sports Medicine, 30, 145-163. [PDF]
Daneshvar DH, Nowinski CJ, McKee AC, Cantu RC. The epidemiology of sports-related concussion. Clin Sports Med. 2011 Jan;30(1):1-17, vii. Review.
McKee, A.C., Gavett, B.E., Stern, R.A., Nowinski, C.J., Cantu, R.C., Kowall, N.W., Perl, D., Hedley-Whyte, E.T., Price, B., Sullivan, C., Morin, P., Lee, H.S., Kubilus, C.A.,Daneshvar, D., Wulff, M., & Budson, A.E. TDP-43 proteinopathy and motor neuron disease in chronic traumatic encephalopathy.  Journal of Neuropathology and Experimental Neurology. 2010;69, 918-929. [PDF]
Stern RA, D'Ambrosio LA, Mohyde M, Carruth A, Tracton-Bishop B, Hunter JC, Daneshvar DH, Coughlin JF. Gerontol Geriatr Educ. At the crossroads: development and evaluation of a dementia caregiver group intervention to assist in driving cessation.Gerontol Geriatr Educ. 2008;29(4):363-82.