Master of Science in Computer Information Systems Blended
Blended Course Schedule |  Dual Degree Option
In addition to the 100% online and 100% on-campus formats, the Metropolitan College Department of Computer Science offers a blended format option for the Master of Science in Computer Information Systems. This program combines the best elements of classroom and online teaching. Using the most current Internet and communication technologies, we support ongoing student/faculty collaboration and interaction while offering reduced face-to-face time. Our courses are designed to align with the latest research on cognitive learning and educational technologies. In addition to providing flexibility to suit busy professional lifestyles, Blended courses deliver a solid academic foundation, important practical skills, and critical business competencies. Please visit the Blended website http://www.bu.edu/met-eti/blended/ for more information about the Blended format.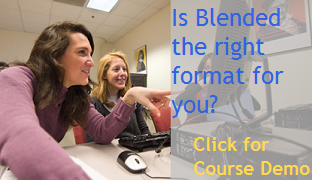 A blended MS CIS course includes:
Four on-campus sessions with lectures and discussions related to online course material. Some may also have hands-on labs and activities to develop technical and business-critical skills.
Online course content, conveniently accessible in Blackboard Learn. This may include online lectures, videos, interactive animations, and instructor-led discussion boards. During the online weeks, students may submit homework assignments, projects, papers, and assessments via the course website.
The course may include interactive online seminars and/or recorded lectures, during the weeks that students are not on campus, led by the instructors covering most important topics, providing homework guidance and answering student questions.
A fifth on-campus session for the final exam or project presentation.
Program Location and Delivery

Boston-Charles River Campus | Online | Blended

View admissions requirements here
Prerequisite Requirements
Applicants to the program are required to have a bachelor's degree from a regionally accredited institution and proficiency in the following areas: MET CS 200 Introduction to Computer Information Systems.
Degree Requirements
Students are required to complete the core curriculum courses and have the option to complete one or more concentration(s) or no concentration. Students who want to earn one or more concentration(s) must satisfy the stated requirements of each concentration they wish to pursue. Students who choose not to pursue a concentration will take MET CS 546 Quantitative Methods for Information Systems and four general electives to complete their degree.
A minimum passing grade for a course in the graduate program is a C (2.0) but an average grade of B (3.0) must be maintained to be in good academic standing and satisfy the degree requirements.
A total of 10 courses (40 credits) is required, as follows:
Core Curriculum (five required courses/20 credits)
Students who have completed courses on core curriculum subjects as part of their undergraduate degree program or have relevant work-related experience may request permission from the Department of Computer Science to replace the corresponding core courses with graduate-level computer information systems electives.
Concentration Options (five courses/ 20 credits)
Click on concentration for more information.
> Computer Networks
> Database Management and Business Intelligence
> Health Informatics
> IT Project Management
> Security
> No Concentration (General Electives)
Dual Degree Option
Appreciating the converging nature of management skills and technology, the Computer Science Department has a special relationship with Metropolitan College's Administrative Sciences and Actuarial Science Departments. Students in either program are able to use 8 credits from one degree toward a second degree, thereby reducing their work on the second degree by two courses. Students must be accepted independently by both departments, but they may request that application materials such as references and transcripts be forwarded from the first program to the second.