One-Time Service Projects and Events
About
One Time Events are for volunteers with rigid schedules and who cannot commit to our weekly programs. Events are scheduled on a one-time or monthly basis, focusing on areas that the Community Service Center does not offer yearlong programs. Student groups, Greek life, residence life, and other organizations are also encouraged to email the Community Partnership & Events Program Manager in order to find existing service opportunities for members in the surrounding Boston area.
---
Looking for Volunteers for Your Organization?
If you are an organization looking for volunteers on a one-time basis, fill out this web form to be included in our weekly newsletter and outside opportunities database. Also, check out our outside opportunities for other one time service opportunities!
---
Upcoming Events
Due to the ongoing situation with COVID-19, Global Days of Service 2020 is cancelled. Please check back for more information about Fall Days of Service 2020.
---
Past Events

MLKJ National Day of Service : Join the CSC for a day of service on Martin Luther King Jr. Day, the National Day of Service on Jan. 19th from 10:00am- 1:00pm. Volunteers will meet community needs focused on children and homelessness.
Children's Trust Fund Toy Drive: The CSC collaborated with community centers and schools sponsored by the Children's Trust Fund, providing toys for children in need and making their holiday wishes come true! The toy drive is begins now through Dec. 12th.
Global Day of Service Committee Application : Every year, GDS brings over 500 students, alumni, faculty and staff together for a full day of service in the city of Boston, around the country and worldwide. For more information on this opportunity, check out the GDS website. Apply to help plan GDS in April.
International Survivors of Suicide Loss Day: Survivor Day is a day when suicide loss survivors can gather together to find comfort and gain understanding as they share stories of healing of hope. Volunteers are needed Saturday, November 22nd from 10:00am-2:00pm to help with publicity and promotion, local programming, media AV, set up, registration and welcome, set up and clean up.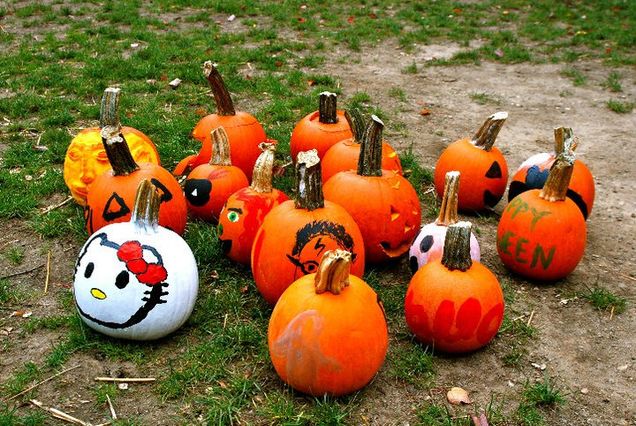 Pumpkin Palooza: CSC volunteers paint pumpkins for an afternoon. These works of art are donated to different shelters and community centers in the Boston Community. Pumpkin Palooza will be held on Thursday, Oct. 23rd and Friday, Oct. 24th from 11am- 3pm on the BU Beach (rain location: GSU Link). All are free to come!
Trick-Or-Can: An annual event where CSC volunteers dress in their Halloween costumes and collect cans in the Brookline and Cambridge for the CSC's fall can drive.


Hike for Hunger:Hike for Hunger is an annual fundraiser for Heifer International and the BU Student Food Rescue program. The hike is 27 miles over two days, from BU to the Heifer International Overlook Farm in Rutland, MA. We arrange for an overnight stay after the first day and at the end of the second day we enjoy activities at Heifer's Global Harvest Festival!