Sign Up to be Van Trained
Need to drive to a community partner, but not van trained? Sign up to get trained today!
In order to become van trained, three steps need to happen:
1) Complete this MVR form and bring it to your trainer AT or BEFORE your training session.
2) Pass two online driving quizzes (which we will send to you via email) either BEFORE or promptly AFTER your training session, depending on when you submitted an MVR form.
3) Take one two-part driving test in our 12-passenger vans.
Click the SignUpGenius button below to schedule a training!  (*NOTE: Please do not sign up for a time less than 24 hours in advance.)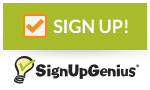 If you have any questions, email Tiffany at csctl@bu.edu.