Location
The teaching lab for the CS Department is located at 730 Commonwealth Avenue on the third floor in room 304. The building is located at the intersections of Commonwealth Avenue and Saint Mary's Street. The BUild Lab and CVS occupy the first floor. BU refers to this building as the Engineering Annex (EMA).
There are three entrances to the building. The first entrance is located next to the Pavement Cafe. The second entrance is located on Saint Mary's Street where the BUild Lab ends. The third entrance is located on the second floor garage. Elevator access is only available through the entrance next to Pavement.
Description
With 30 networked PCs and a sophisticated instructional display, the instructional lab is one of BU's most technologically sophisticated teaching environments. Discussion sections for many CS classes are held in the teaching lab, allowing students access to the very technology they study, as they study.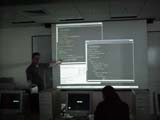 With a video output projector and theater-quality sound, teachers in the department are better able to communicate the often abstract concepts of computer science.
Students in the department may use the teaching lab as part of their course curriculum. Additionally, students are allowed to access the lab at times when the main lab next door becomes overcrowded.