Hashing
With the staggering growth in image and video datasets, hashing methods that map the data into Hamming space have shown promise for providing fast similarity search and compact storage; however, many of these methods employ a batch-learning strategy in which the computational cost and memory requirements may become intractable with larger and larger datasets. To overcome these challenges, we propose an online learning algorithm based on stochastic gradient descent in which the hash functions are updated iteratively with streaming data. In experiments with three image retrieval benchmarks, our online algorithm attains retrieval accuracy that is comparable to competing state-of-the-art batch-learning solutions, while being orders of magnitude faster and adaptable to the variations of the data.
Human Motion and Gesture Analysis

Human actions are, inherently, structured patterns of body movements. We explore ensembles of hierarchical spatio-temporal trees, discovered directly from training data, to model these structures for action recognition. The hierarchical spatio-temporal trees provide a robust mid-level representation for actions. We show that these tree patterns, alone, or in combination with shorter patterns (action words and pairwise patterns) achieve state-of-the-art performance on two challenging datasets: UCF Sports and HighFive. Moreover, trees learned on HighFive are used in recognizing two action classes in a different dataset, Hollywood3D, demonstrating the potential for cross-dataset generality of the trees our approach discovers.

We propose Hierarchical Space-Time Segments as a new representation for action recognition and localization. This representation has a two level hierarchy. The first level comprises the root space-time segments that may contain a human body. The second level comprises multi-grained spacetime segments that contain parts of the root. We present an unsupervised method to generate this representation from video, which extracts both static and non-static relevant space-time segments, and also preserves their hierarchical and temporal relationships. Using simple linear SVM on the resultant bag of hierarchical space-time segments representation, we attain better than, or comparable to, state-of-the-art action recognition performance on two challenging benchmark datasets and at the same time produce good action localization results.

This ongoing project focuses on video-based human-computer interaction systems for people who need assistive technology for rehabilitation or as a means to communicate. Our first system, the "Camera Mouse," provides computer access by tracking the user's movements with a video camera and translating them into the movements of the mouse pointer on the screen. The system has been commercialized and is in wide use in homes, hospitals, and schools the U.S.and the U.K. Other systems detect the user's eye blinks or raised fingers and interpret the communication intent.
Image Segmentation
Advances in microscopy and storage technologies have led to large amounts of images of biological structures that, if analyzed, could provide an understanding of fundamental biological processes and, in turn, aid in diagnosing diseases and engineering biomaterials. Segmentation is the most time-consuming image analysis task for human annotators and so is our initial focus of impact. We freely share our resources we are developing to accelerate the research in the biomedical community to automatically analyze biomedical images. We collaborate with biologists and biomedical engineers to create image libraries representing various image acquisition modalities, biological structure types, magnification levels, and image acquisition parameters. We also define annotation standards to create reliable reference data for algorithm validation and to collect annotations from non-experts using crowdsourcing platforms. Finally, we develop approaches and systems to expedite or replace expert efforts to consistently and efficiently collect high quality boundaries of biological structures in their images.
(WACV 2013 Best Paper Award) Finding the outline of an object in an image is a fundamental step in many computer vision based applications. While researchers commonly analyze segmentation quality by measuring how similar an algorithm generated segmentation is to a gold standard segmentation, they face the challenge of choosing appropriate evaluation measures and gold standard segmentations. We propose a framework to obtain meaningful project specific segmentation performance indicators, share a freely available toolbox implementing this framework that links existing annotation collection tools with gold standard generation methods and evaluation algorithms, and describe case studies using this toolbox that show how to establish trusted gold standard segmentations for cell and artery images.
Machine Learning

Non-convex optimization is ubiquitous in machine learning. The Majorization-Minimization (MM) is a systematic procedure for optimizing non-convex functions through an iterative construction and optimization of upper bounds on the objective function. However, we show that the bounding conditions in MM can be overly restrictive. We therefore generalize MM into a new framework for designing optimization algorithms, named Generalized Majorization-Minimization (G-MM). Compared to MM, G-MM is much more flexible, and appears to be less sensitive to initialization. We derive G-MM algorithms for several latent variable models and show that they consistently outperform their MM counterparts.

We study the problem of supervised learning for both binary and multiclass classification from a unified geometric perspective. In particular, we propose a geometric regularization technique to find the submanifold corresponding to an estimator of the class probability P(y|
x
). The regularization term measures the volume of this submanifold, based on the intuition that overfitting produces rapid local oscillations and hence large volume of the estimator. This technique can be applied to regularize any classification function that satisfies two requirements: firstly, an estimator of the class probability can be obtained; secondly, first and second derivatives of the class probability estimator can be calculated.
We propose a Bayesian approach for recursively estimating the classifier weights in online learning of a classifier ensemble. In contrast with past methods, such as stochastic gradient descent or online boosting, our approach estimates the weights by recursively updating its posterior distribution. For a specified class of loss functions, we show that it is possible to formulate a suitably defined likelihood function and hence use the posterior distribution as an approximation to the global empirical loss minimizer. If the stream of training data is sampled from a stationary process, we can also show that our approach admits a superior rate of convergence to the expected loss minimizer than is possible with standard stochastic gradient descent. In experiments with real-world datasets, our formulation often performs better than state-of-the-art stochastic gradient descent and online boosting algorithms.
Object Recognition and Pose Estimation
Our work introduces a novel way to increase pose estimation accuracy by discovering parts from unannotated regions of training images. Discovered parts are used to generate more accurate appearance likelihoods for traditional part-based models like Pictorial Structures and its derivatives. Our experiments on images of a hawkmothin flight show that our proposed approach significantly improves over existing work for this application, while also being more generally applicable. Our proposed approach localizes landmarks at least twice as accurately as a baseline based on a Mixture of Pictorial Structures (MPS) model. Our unique High-Resolution Moth Flight (HRMF) dataset is made publicly available with annotations.
Object detection and pose estimation are interdependent problems in computer vision. Many past works decouple these problems, either by discretizing the continuous pose and training pose-specific object detectors, or by building pose estimators on top of detector outputs. We propose a structured kernel machine approach to treat object detection and pose estimation jointly in a mutually beneficial way. In our formulation, a unified, continuously parameterized, discriminative appearance model is learned over the entire pose space. We propose a cascaded discrete-continuous algorithm for efficient inference, and give effective online constraint generation strategies for learning our model using structural SVMs. Our method performs better than, or on par with, state-of-the-art methods in the combined task of object detection and pose estimation.
We propose a model-based multi-view articulated 3D bat pose estimation framework for estimating and subsequently analyzing articulated 3D bat pose in the wild. Key challenges include the large search space associated with articulated 3D pose, the ambiguities that arise from 2D projections of 3D bodies, and the low resolution image data we have available. Our method uses multi-view camera geometry and temporal constraints to reduce the state space of possible articulated 3D bat poses and finds an optimal set using a Markov Random Field based model. Our experiments use real video data of flying bats and gold-standard annotations by a bat biologist. Our results show, for the first time in the literature, articulated 3D pose estimates being generated automatically for video sequences of bats flying in the wild.
Saliency
We aim to model the top-down attention of a CNN classifier for generating task-specific attention maps. Inspired by a top-down human visual attention model, we propose a new backpropagation scheme, called Excitation Backprop, to pass along top-down signals downwards in the network hierarchy via a probabilistic Winner-Take-All process. Furthermore, we introduce the concept of contrastive attention to make the top-down attention maps more discriminative.
We aim to do bounding box localization for salient objects in unconstrained images. We propose a system that can output a highly reduced set of detection windows based on a CNN proposal generation model and a novel proposal subset optimization formulation. Our system significantly outperforms existing methods in localizing dominant objects.
We propose a highly efficient, yet powerful, salient object detection method based on a fast Minimum Barrier Distance Transform algorithm. Our salient object detection method (MB) achieves state-of-the-art performance and runs at about 80 FPS using a single thread. Furthermore, a technique based on color whitening is proposed to extend our method to leverage the appearance-based backgroundness cue. This extended version (MB+) further improves the performance, while still runs at about 50 FPS.
People can immediately and precisely identify that an image contains 1, 2, 3 or 4 items by a simple glance. The phenomenon, known as Subitizing, inspires us to pursue the task of Salient Object Subitizing (SOS), i.e. predicting the existence and the number of salient objects in a scene using holistic cues. To study this problem, we propose a new image dataset annotated using an online crowdsourcing marketplace. We show that a proposed subitizing technique using an end-to-end Convolutional Neural Network (CNN) model achieves significantly better than chance performance in matching human labels on our dataset. Finally, we demonstrate the usefulness of the proposed subitizing technique in two computer vision applications: salient object detection and object proposal.
A novel Boolean Map based Saliency (BMS) model is proposed. An image is characterized by a set of binary images, which are generated by randomly thresholding the image's color channels. Based on a Gestalt principle of figure-ground segregation, BMS computes saliency maps by analyzing the topological structure of Boolean maps. BMS is simple to implement and efficient to run. Despite its simplicity, BMS consistently achieves state-of-the-art performance compared with ten leading methods on five eye tracking datasets. Furthermore, BMS is also shown to be advantageous in salient object detection.
Tracking
We propose a multi-expert restoration scheme to address the model drift problem in online tracking. In the proposed scheme, a tracker and its historical snapshots constitute an expert ensemble, where the best expert is selected to restore the current tracker when needed based on a minimum entropy criterion, so as to correct undesirable model updates. In experiments, our tracking method achieves substantially better overall performance than 32 trackers on a benchmark dataset of 50 video sequences under various evaluation settings. In addition, in experiments with a newly collected dataset of challenging sequences, we show that the proposed multi-expert restoration scheme significantly improves the robustness of our base tracker, especially in scenarios with frequent occlusions and repetitive appearance variations.

We propose a randomized ensemble algorithm to model the time-varying appearance of an object for visual tracking. In contrast with previous online methods for updating classifier ensembles in tracking-by-detection, the weight vector that combines weak classifiers is treated as a random variable and the posterior distribution for the weight vector is estimated in a Bayesian manner. In essence, the weight vector is treated as a distribution that reflects the confidence among the weak classifiers used to construct and adapt the classifier ensemble. The resulting formulation models the time-varying discriminative ability among weak classifiers so that the ensembled strong classifier can adapt to the varying appearance, backgrounds, and occlusions. The formulation is tested in a tracking-by-detection implementation. Experiments on 28 challenging benchmark videos demonstrate that the proposed method can achieve results comparable to and often better than those of state-of-the-art approaches.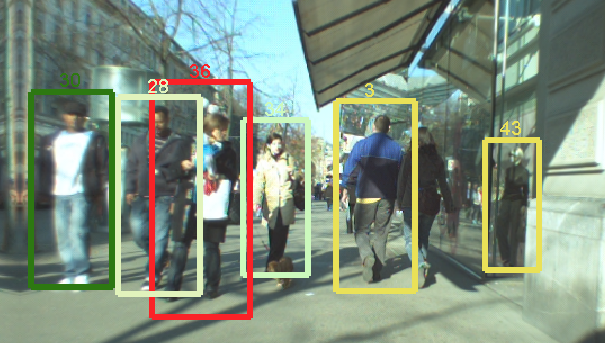 We propose a fast online multi-target tracking method, called motion agreement algorithm, which dynamically selects stable object regions to track. The appearance of each object, here pedestrians, is represented by multiple local patches. For each patch, the algorithm computes a local estimate of the direction of motion. By fusion of the agreements between a global estimate of the object motion and each local estimate, the algorithm identifies the object stable regions and enables robust tracking. The proposed patch-based appearance model was integrated into an efficient online tracking system that uses bipartite matching for data association. The experiments on recent pedestrian tracking benchmark sequences show that the proposed method achieves competitive results compared to state-of-the-art methods, including several offline tracking techniques.
Tracking-by-detection is a widely used paradigm for multi-person tracking but is affected by variations in crowd density, obstacles in the scene, varying illumination, human pose variation, scale changes, etc. We propose an improved tracking-by-detection framework for multi-person tracking where the appearance model is formulated as a template ensemble updated online given detections provided by a pedestrian detector. We employ a hierarchy of trackers to select the most effective tracking strategy and an algorithm to adapt the conditions for trackers' initialization and termination. Our formulation is online and does not require calibration information. In experiments with four pedestrian tracking benchmark datasets, our formulation attains accuracy that is comparable to, or better than, the state-of-the-art pedestrian trackers that must exploit calibration information and operate offline.
Video-based Analysis of Animal Behavior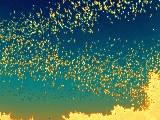 We have used an infrared thermal cameras to record Brazilian free-tailed bats in California, Massachusetts,and Texas and developed automated image analysis methods that detect, track, and count emerging bats. Censusing natural populations of bats is important for understanding the ecological and economic impact of these animals on terrestrial ecosystems. Colonies of Brazilian free-tailed bats are of particular interest because they represent some of the largest aggregations of mammals known to mankind. It is challenging to census these bats accurately, since they emerge in large numbers at night.
Past Projects

This project involves research on computer-based recognition of ASL signs. One goal is development of a "look-up" capability for use as part of an interface with a multi-media sign language dictionary. The proposed system will enable a signer either to select a video clip corresponding to an unknown sign, or to produce a sign in front of a camera, for look-up. The computer will then find the best match(es) from its inventory of thousands of ASL signs. Knowledge about linguistic constraints of sign production will be used to improve recognition. Fundamental theoretical challenges include the large scale of the learning task (thousands of different sign classes), the availability of very few training examples per class, and the need for efficient retrieval of gesture/motion patterns in a large database.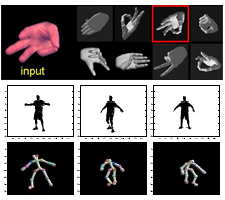 The goal of this effort is to develop algorithms for articulated structure and motion estimation, given one or more image sequences. Articulated motion is exhibited by jointed structures like the human body and hands, as well as linkages more generally. Articulated structure and motion estimation algorithms are being developed that can automatically initialize themselves, estimate multiple plausible interpretations along with their likelihood, and provide reliable performance over extended sequences. To achieve these objectives, concepts from statistical machine learning, graphical models, multiple view geometry, and structure from motion are employed.