CS Ambassadors Organize a Splash Event Unlike Any Other
By Keziah Zimmerman
This past Saturday, September 12th, CS Ambassadors hosted CS Splash, the annual club fair for computer science-related groups. The event was, for the first time ever, held on Zoom and nearly 80 participants joined the call. 
"We've been working on Splash since February. It's one of our biggest events," said Jack Giunta (CAS'22), one of the CS Ambassadors tasked with organizing the event. "I definitely think students should connect with the program and each other to diversify their experience."
Despite being virtual, students found plenty of opportunities to connect with the 25 clubs represented at Splash. The event was structured with a main Zoom chat room containing a comprehensive list of clubs, each with their own Zoom link for a more specific engagement. The breadth of clubs allowed anyone in attendance to join video chats that piqued their interest.
 "I was really interested in joining a CS based-club and meeting other people interested in my major," said Sophie Fang (CAS'21), a member of CS Connect, which is a club focused on engaging and connecting students through tech events. "CS Connect allowed me to learn and give advice, network, engage in technical workshops, and community events. It doesn't matter your major or coding knowledge- CS Connect is open to everyone."
It wasn't just students participating in this weekend's Splash. Computer Science Professor Wayne Snyder was present to moderate the event and give students advice on how to become more involved in the wide variety of groups and clubs.
"At BU, you are able to study in the context of not only a great college, but a great city," said Professor Snyder. "Don't narrow your focus too much. So much about CS is networking and there are so many great ways to get involved." 
Further emphasizing the resources available throughout the CS community, Snyder encouraged students to get involved with programs available through BU Spark!, such as Innovation Fellows, Co-Lab, and X-Lab. These fellowships offer either class credit or a paid on-campus internship. 
"Spark! [has] a fellowship based on student ideas," said Eric Chao (CAS'22), a student who had been involved with the program in the past. "X-Lab specifically allowed me to participate in a team setting, develop my project management skills, and build something real for a company with minimal repercussions."  
Clubs and resources available through computer science do not focus solely on computational or technical skills. Many of the organizations also emphasize culture, diversity, and human connection. 
"When I first joined the National Society of Black Engineers, I thought it was going to be purely professional," said Junia Janvier (CAS'23). "That wasn't the case at all. Everyone was so welcoming and joining the group made the BU community so much smaller."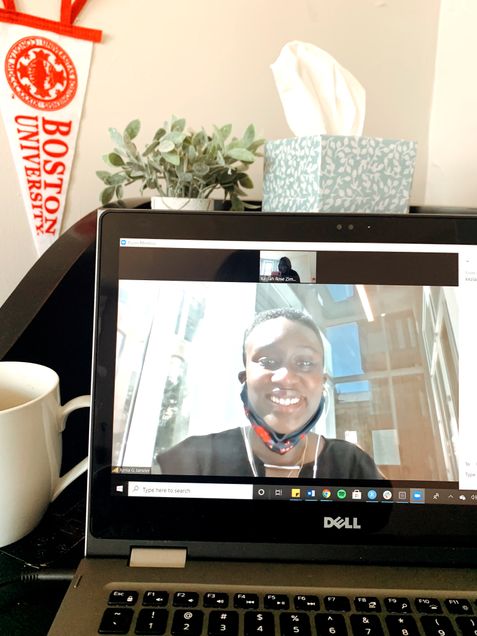 Neha Rai (CAS'21) expressed a similar point to Janvier when discussing her involvement in the club Girls Who Code. "Before college, I wasn't really interested in computer engineering because it's a male-dominated field," said Rai. "Now, it doesn't bother me as much. I would like to see other girls have similar opportunities to mine."
"I thought Girls Who Code would be a great opportunity to advance my own skills," said Natalie Rosales (CAS'21), who is a founder of the Girls Who Code chapter at BU. "There wasn't a Girls Who Code program in my high school and I've thought about how much I would've loved to join this group when I was younger."
Despite the obstacles faced during this era of social distancing, CS Ambassadors are committed to providing an inclusive and unifying community, and they hope Splash and other events will promote this objective. Reflecting on what made the event successful, Giunta referred to being passionate about the subject matter.
"We want to share the love of what we do," said Giunta. "Just because we work with robotics doesn't make us robots. Meeting other people in CS will not only help you connect with someone on a personal level, but establishes a foundation for who you want to be. So try new things, stick your neck out, go to information sessions. Learning what's best for you comes by learning from other people, so do everything you can to meet new people."