Department Goes Green to Achieve Gold
On Wednesday, November 7th, sustainability@BU officially certified the Boston University Department of Computer Science as a Green Department, earning the level of Gold. BU CS is the seventh department at Boston University to earn Green Department Certification, and the first in the College of Arts and Sciences.
The Green Office Certification Program, launched in 2011 through BU's Sustainability Liaisons, aims to "raise awareness, educate, and provide measurable guidelines for greening the office environment." Green Department Certification takes the program a step further, requiring all members of a department (faculty, students, and staff) to come together to ensure department-wide cooperation. To achieve this comprehensive certification, 80% of the offices in a department must be Green Office Certified and the department must enact overarching measures at its core.
Abraham Matta, Professor and Chair of the Department of Computer Science, was excited that the Department is a University leader, honored with the gold-level certification. He praised everyone in the Department for working together to attain this achievement.
"Our Computer Science Department is very proud to become Green Certified and be the first department in CAS to achieve gold-level certification," said Matta. "It goes to show how our faculty, staff, and students care about sustainability, and I hope we can continue to do more to reduce waste in the future."
In her speech congratulating the Department, BU's Sustainability Director, Lisa Tornatore, praised the department's strong sustainability leadership and the efforts of individuals in working towards a Green Department Certification. She described sustainability in an office setting as an "80% individual effort".
"Sustainability is not just about what the university is doing, it's about what everybody here is doing as part of the community," said Tornatore. "The effort on the behalf of the department is really key to showing the institution we are moving forward and what departments like [Computer Science] are doing."
The Department was awarded a bamboo plaque to commemorate its achievement, which will be proudly displayed outside the main office door. The plaque includes information about the measures taken by the Department to become more sustainable. The introductory text reads, "The Department of Computer Science strives to educate and prepare our students to excel in the ever-evolving world of technology. We pride ourselves on fostering an innovative atmosphere at all levels, including becoming the first Green Department in CAS".
CS Masters student Megan Fantes (CAS'18, GRS'20) felt proud to be part of a department that plans for the future, and drew parallels between the forward-thinking ideologies of both computer science and sustainability.
"Computer science is a lot about looking toward the future and being able to adapt to it, and sustainability is also about that," said Fantes. "It's good as a department to prioritize not only computer science, but also the sustainable factor of the future."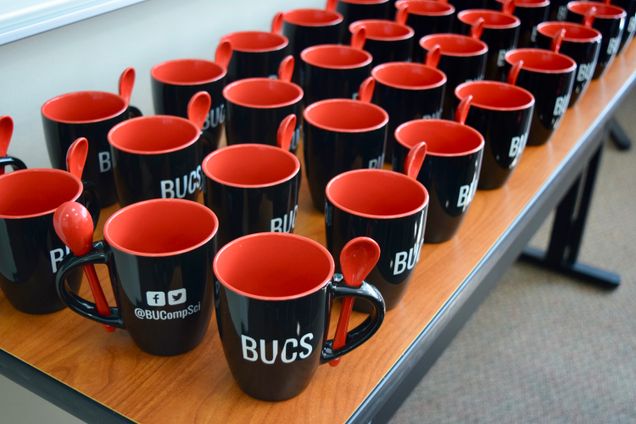 Christian Cole (CAS'11), Program Administrator and leader of the Department's sustainability initiative, said he is "proud of the effort the department has made" to support sustainability.
"Having graduated from BU in 2011 with a BA in Environmental Science, sustainability has always been near to my heart, and I wanted to bring that passion and BU's sustainability efforts together in my role in the Department of Computer Science," said Cole. "It's been a two-plus year project that I'm happy to see come to fruition."
Cole reminded attendees that sustainability is an "ongoing process," hinting at future department plans to implement better education around waste and possibly implement composting.
"If there's one thing I learned in my education at BU, it's that it's easy to feel defeated when talking about sustainability and environmental issues," said Cole. "But every little bit of effort counts towards a more sustainable future."