CS Day 2017 Puts a Spin on Career Fairs
On Wednesday, September 27th, over 400 Boston University students and 20 companies convened in the Metcalf Ballroom for CS Day, an event aimed at showcasing the growth and research in the Department of Computer Science while also giving current CS students the opportunity to further their careers.
Companies in attendance included many well-known organizations such as Facebook, Google, and Red Hat. The financial technology (FinTech) and insurance technology (InsurTech) industries had a strong presence including companies such as Bloomberg and Liberty Mutual. Excited students waited patiently in sometimes-long lines to speak to recruiters about the opportunities available.
Student reaction to the event was enthusiastic. "I'm definitely excited about Google," said Adiba Nisa (MET'17). "I like the fact that there are so many companies to talk to, it's nice to [get to] know them."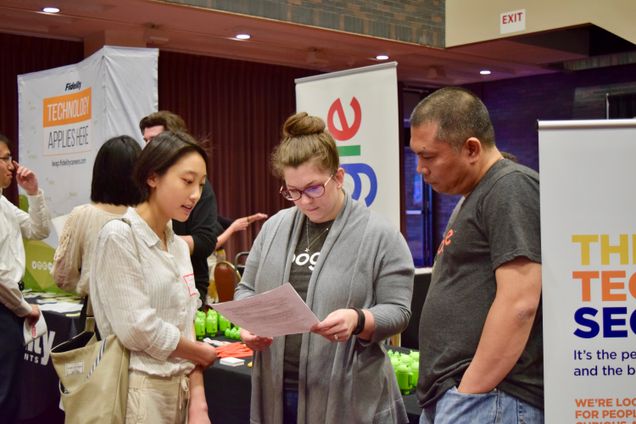 The large number of companies present was cited as a positive aspect of the event by students. Another popular element was the many email tips sent out leading up to CS Day by the event organizer and Department of Computer Science Program Administrator Christian Cole. "He has sent so many emails [to] us on tips and all the preparations," said Aswin Vasudevan (GRS'17), a Master's student. "We are so thankful to him."
Seven of BU's computer science related clubs were also in attendance, raising awareness about the various ways to get involved on campus. Brooke Mullen (CAS'19), Vice President of Girls Who Code BU (GWCBU), was excited about the turnout of the fair.
"I think that it's really cool having clubs like the Machine Intelligence Club here…a lot of people are getting more involved with finance [who are] also being involved in CS," said Mullen. "We've had a lot of very excited people come up to the Girls Who Code Table, so I'm really happy with it."
For many students, CS Day was their first look into their future careers in computer science. Although some initially felt overwhelmed by the many companies and student groups, many agreed that by the end they felt much more prepared for the future. For Dora Agali (CAS'20), CS Day was a chance to talk to future employers in person.
"I like that it's kind of personal, versus when you are just applying to internships online there's an idea but here you can actually talk to people," said Agali, a sophomore. "I felt a little unprepared, but I think when I came and I experienced it a little bit more, I felt like 'oh, I could do this'."
Normandie Essig (CAS'20) thought CS Day was a good opportunity to meet fellow CS majors.
"It's my first career fair, I just declared at the end of last year so I'm very new to the major," said Essig, who is also intern for the CS Department. "I think it's cool to see everyone, you never get to see anyone in the major really. I feel like most people are here."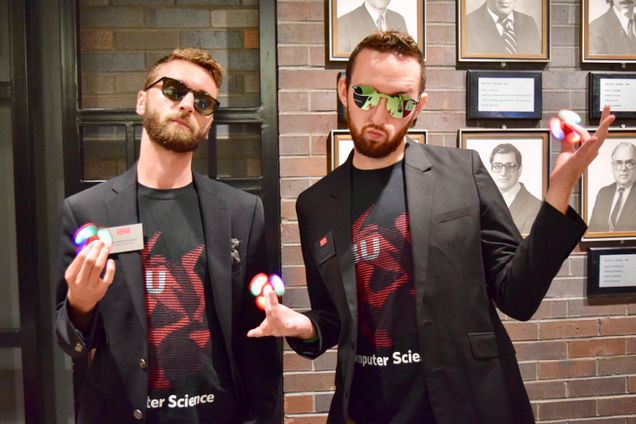 Feedback on CS Day 2017 has been largely positive with over 80% of student attendees rating the event "good" or "excellent." Many companies reached out after the event to say that CS Day was a great opportunity for them to network with students.
"We [felt that] this was one of the best career fairs we had attended," said Maxim Igolnikov, a recruiter from 128 Technology. "There was a great mix of graduating seniors looking for full-time positions as well as underclassmen looking for internships."
CS faculty members were also excited to see the valuable connections students made with employers. CS Professor and Department Chair Mark Crovella said that this year's CS Day was "better than ever before."
"With CS at BU now exceeding 800 majors and Master's students, it becomes increasingly important to find ways to connect and facilitate encounters between all the folks who come to CS Day," said Crovella. "The energy created as these groups interacted was palpable and reflects the excitement around CS at BU."
For more information about getting involved in Computer Science at Boston University, visit https://www.bu.edu/cs.