Events
Click here for Student Readings.
Upcoming Events
The Annual Faculty Reading
Wednesday, April 8, 2015 7:00 PM
Boston University Hillel House, 4th floor
213 Bay State Road
Featuring
Dan Chiasson
Leslie Epstein
Ha Jin
Karl Kirchwey
Sigrid Nunez
Robert Pinsky
Mai Wang (fiction alum 2014)
Free and open to the public
Past Events:
The Annual Faculty Reading
Wednesday, March 26, 2014, at 7 PM
Boston University Photonics Center Auditorium
8 St. Mary's St.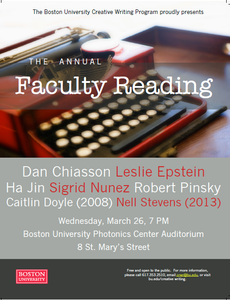 Featuring
Dan Chiasson
Leslie Epstein
Ha Jin
Sigrid Nunez
Robert Pinsky
Caitlin Doyle (Poetry Alum 2008)
Nell Stevens (Fiction Alum 2013)
Free and open to the public
The Ha Jin Visiting Lecture Series presents JHUMPA LAHIRI in conversation with DAPHNE KALOTAY
Wednesday, February 19, 2014, 7:00 pm
Morse Auditorium, 602 Commonwealth Ave, Boston, MA 02215


Pulitzer Prize-winning author Jhumpa Lahiri, a graduate of our program in fiction, will read from her novel The Lowland, shortlisted for the Man Booker Prize and the National Book Award. After the reading, Lahiri will be joined onstage for a conversation with fellow alumna Daphne Kalotay (Fiction 1994), the award-winning author of Russian Winter and Sight Reading.
This event is free and open to the public. We suggest arriving early to guarantee a seat. Public parking is available in the BU Granby Street lot at 665 Commonwealth Avenue, with limited metered spots on Bay State Road and Commonwealth Avenue. Via MBTA, take the Green Line to the Kenmore or Blandford Street station. You can find more information at http://www.bu.edu/maps/ or http://www.bu.edu/parking
JHUMPA LAHIRI was born in London and raised in Rhode Island. She is the recipient of a Guggenheim Fellowship, and author of two previous books. Her debut collection of stories, Interpreter of Maladies, was awarded the Pulitzer Prize, the PEN/Hemingway Award and The New Yorker Debut of the Year. Her novel The Namesake was a New York Times Notable Book, a Los Angeles Times Book Prize finalist and was selected as one of the best books of the year by USA Today and Entertainment Weekly, among other publications. She is a graduate of the Boston University Creative Writing program and lives in Brooklyn, New York.
A citizen of both Canada and the U.S., DAPHNE KALOTAY grew up in New Jersey and graduated from Vassar College before moving to Massachusetts to attend Boston University's Creative Writing Program. There her stories went on to win the school's Florence Engel Randall Fiction Prize and a Transatlantic Review Award from The Henfield Foundation. She remained at BU to complete a PhD in Modern and Contemporary Literature and, with Saul Bellow as her advisor, wrote her doctoral dissertation on the works of Mavis Gallant. (Her interviews with Mavis Gallant can be read in The Paris Review's Writers-At-Work series.) A MacDowell Fellow, Daphne has received fellowships from the Christopher Isherwood Foundation, the Bogliasco Foundation, and Yaddo.  Her fiction collection, Calamity and Other Stories (Doubleday), was short listed for the 2005 Story Prize, and her debut novel, Russian Winter (HarperCollins), won the 2011 Writers' League of Texas Fiction Prize, made the long list for the IMPAC Dublin Literary Award, and has been published in 21 foreign editions.  Her newest novel is Sight Reading (Harper, 2013).  Currently co-president of the Boston chapter of the Women's National Book Association, Daphne lives in Somerville, Massachusetts.
The Ha Jin Visiting Lecture program, made possible by a generous donation from Mr. Robert Hildreth of Boston, is designed to bring internationally renowned fiction writers to Boston University to teach master classes and give public lectures. Jhumpa Lahiri is the third Visiting Lecturer; past honorees have included Victor Golyshev and Paul Harding. The series is named for HA JIN, a Boston University Creative Writing alumnus and current professor. Born in China in 1956, Jin was a teenager when China entered the Cultural Revolution. He became a member of the People's Liberation Army at the age of fourteen. Writing in English, Jin has won the National Book Award, the PEN/ Faulkner twice, the PEN/Hemingway award, and the Flannery O'Connor prize.
If you have any questions about this event, please contact Catherine Con in the Boston University Creative Writing office at crwr@bu.edu or 617-353-2510.
—
The Robert Lowell Memorial Lecture Series presents JOHN ASHBERY and BU MFA alumna SOPHIE GRIMES
Thursday, October 3, 6:00 pm
The Castle, Boston University: 225 Bay State Road, Boston, MA 02215
Reading followed by book signing and dessert reception
Free and open to the public
JOHN ASHBERY is the author of more than twenty books of poetry, most recently Quick Question (2012). Other collections include Notes from the Air: Selected Later Poems (2007), which was awarded the International Griffin Poetry Prize, and Self-Portrait in a Convex Mirror (1975) won the three major American prizes—the Pulitzer, the National Book Award, and the National Book Critics Circle Award. The Library of America published the first volume of his collected poems in 2008 and he was presented with a National Humanities Medal in 2012 by President Obama.
SOPHIE SUMMERTOWN GRIMES (Poetry 2011) has lived and traveled in China as an Oberlin Shansi Fellow, and as a Robert Pinsky Global Fellow. She holds a B.A. in Creative Writing from Oberlin College and a Master of Fine Arts in Poetry from Boston University. Her poems have appeared in AGNIonline, 491 Magazine, Red Branch Journal, and Spoon River Poetry Review. Second runner-up for the 2011 New Letters Prize for Poetry, she writes poetry reviews for Publishers Weekly. Her chapbook City Structures was published this summer by Damask Press with artwork by Stephanie Kwak.
The Robert Lowell Memorial Poetry Series was established to bring distinguished writers to campus to read alongside recent graduates of the program. It is funded by Nancy Livingston and Fred M. Levin through The Shenson Foundation, in memory of Drs. Ben & A. Jess Shenson.
Not Found
Sorry, but you are looking for something that isn't here.