Rev. Dr. Teddy Hickman-Maynard joins STH Faculty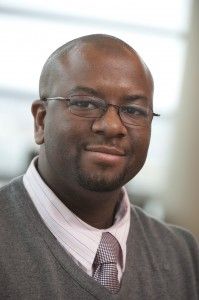 The Center for Practical Theology is thrilled to announce that Rev. Dr. Teddy Hickman-Maynard (STH MDiv '03 and PhD in Practical Theology '15) has joined the School of Theology faculty as Assistant Professor of Black Church Studies. Below, Rev. Dr. Hickman-Maynard shares what he's looking forward to about teaching and research, what's on his bookshelf, and some great advice for doctoral students in Practical Theology.
1. What are you looking forward to in your position at STH?
I never thought I'd say this, but I'm most looking forward to the time and institutional support that I need to get some research projects off the ground.  As a visiting assistant professor these past two years, I had one foot in the classroom and one foot in pastoral ministry.  That arrangement left little time for research and writing, which was fine with me since I never saw myself as a "career" academic.  But, something funny happened to me over the course of those two years: I started gaining confidence in my "scholarly" voice and realized that I had something valuable to contribute to my fields of interest.  So, with this new position, I've decided to devote myself more fully to academic work for the first time.  And I'm surprised by how excited I am at the prospect of that.
2. What excites you about being in the classroom? What classes will you be teaching next year?
 Seminary is more than an educational experience; it is an existential wringer through which students' sense of self and worldview are squeezed until all extraneous or shallow presumptions are broken down and peeled away, revealing the core of convictions that form the solid basis of purpose on which they will stand for the rest of their lives.  The classroom is a kind of laboratory for exploratory and reconstructive spiritual surgery.  So for me, teaching is a sacred trust whereby students place their hearts in the hands of their professors and classroom companions as we poke and prod one another's deepest thoughts and emotions.  As a professor, I feel like my job is to provide students the proper tools to work with and to model for them how to deal with one another in a manner that is both incisive and safe.  The goal is not to see how much blood we can leave on the floor when we're done; the goal is that everyone comes out stronger, healthier, and better prepared for the stresses of leadership that will follow graduation.  So, to be the facilitator of that process is an incredibly exciting and terrifying experience.
Although my research is centered on Black Church Studies, my teaching portfolio will still reflect my specialization in evangelism and church renewal within the broader field of practical theology.  In the fall I will be teaching "Practicing Justice: Dancing through the Dialectic of Priestly and Prophetic Ministry" and a new online course, "Doctoral Seminar on Church Renewal."  In the Spring I will be teaching "Blessings, Black Power, and the New Black Church" as well as "Evangelism in Contemporary Cultures."
3. What research projects are on your horizon? 
 I'm currently preparing IRB proposals for two related projects.  The first concerns church renewal in the Wesleyan tradition, with a particular emphasis on the United Methodist Church and the African Methodist Episcopal Church.  The second project looks at the practical theologies of pastoral leadership among younger Black pastors in the three historically black Methodist communions: AME, AME Zion, and CME churches.
4. Are there any recent books or projects in practical theology that you've found particularly engaging?
 Leah Gunning Francis' Ferguson and Faith: Sparking Leadership and Awakening Community (Chalice Press, 2015) chronicles the relationship between faith leaders and community activists in Ferguson, MO in the wake of the shooting of Michael Brown on August 9, 2014.  Through careful attention to the narratives of representatives of both of these perspectives, she unearths the practical theologies that allowed faith leaders to pursue and make sense of their partnership with activists who (in many cases) wanted nothing to do with traditional religious institutions.  I've used this book for my classes as well as for presentations in the church context.
I've also used several articles from Black Practical Theology (Baylor University Press, 2015), a volume edited by Dale P. Andrews and Robert London Smith, Jr., which constructs critical conversation between constructive theologians, practical theologians, and church leaders on important issues facing black communities.  Not only are the individual articles excellent, but Andrews and Smith articulate a methodology for bringing together these three kinds of voices that reflects my own approach to my vocation as a scholar and a church minister.
5. If you could give practical theology doctoral students at the School of Theology one piece of advice, what would it be?
 Don't commit to a particular career path too soon.  The Ph.D. in Practical Theology is a multifaceted program that will furnish you with skills and competencies in a variety of areas that can be applied to diverse contexts and fields of work.  While this sometimes leads us to feel that we are not sufficient "experts" in any one thing, it is actually a blessing in the current work environment wherein folks need to be able to ride the ever-shifting ebbs and flows of the job market.  Don't panic.  Don't box yourself in.  Trust the process and be open to surprise!