Moral Monday National Day of Action in Boston: Student and Alumna Reflections
On September 12, 2016, hundreds of clergy and laity from many traditions marched from Boston Common to the Statehouse in the nationwide Moral Monday National Day of Action. In solidarity with gatherings at 25 state capitols throughout the country, participants sang, shared and listened to testimonies. They also lent their voices and presence in affirmation of the principles of the Higher Ground Moral Declaration.
Following is an excerpt of the full Declaration:
"…we declare the deepest public concerns of our faith traditions are how our society treats the poor, those on the margins, the least of these, women, children, workers, immigrants and the sick; equality and representation under the law; and the desire for peace, love and harmony within and among nations…We believe our moral traditions have a firm foundation upon which to stand against the divide-and-conquer strategies of extremists. We believe in a moral agenda that stands against systemic racism, classism, poverty, xenophobia, and any attempt to promote hate towards any members of the human family. We claim a higher ground in partisan debate by returning public discourse to our deepest moral and constitutional values."
Several practical theology doctoral students and alumnae were present at the Boston gathering and graciously shared what inspired their participation that morning. You can read more about the Boston event from sponsor City Mission or for a review of events as they unfolded, browse #MoralRevival. A video of the August 1st "The Revival: Time for a Moral Revolution of Values" Boston service is available here.
Rev. Soren Hessler: My participation in the demonstration at the statehouse was spurred in part by my work at Hebrew College as the associate director of the Betty Ann Greenbaum Center for Interreligious Learning & Leadership. The center's goal is to form Jewish, Christian, and Muslim students and current religious leaders for thoughtful engagement across lines of religious difference to tackle the important social issues of our time. For me, that work isn't just an abstract thought project, it needs to be grounded in actual practice. I can't talk or teach about that work, if I am not engaged in it. We learn by doing. As a teacher, I also continue to learn by doing, and I was particularly excited to see both faculty and students from Hebrew College (and our affiliated programs) at the gathering at the statehouse.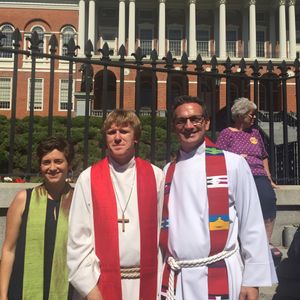 Kathryn House: My participation stems from my involvement in my congregation, the First Baptist Church in Jamaica Plain, and from my belief in an expansive understanding of what morality encompasses. I'm originally from North Carolina, and so I have followed and been inspired by Rev. Barber and others' work in NC, but also throughout the country. For me, it was important to stand with others and demonstrate, with our words, and with our physical presence, what it means to keep love and justice at the center of our faith commitments and as a priority for legislation. Devastating economic disparity, the machine that is mass incarceration, fear and hatred serving as a guiding principle of how we respond to "other" among us: these are the wounded systems I am compelled to resist and re-envision in ways that are more just and more generous. Standing, shouting, praying, and walking with others gives me courage to live into the alternatives I want to see in the world.
Rev. Christopher Ney:  I think it is important for clergy to stand in the public square on the most pressing issues–especially racism, poverty and care for the planet. My interest in practical theology comes from a similar place: figuring out how to engage in public issues from a faith perspective in a way that is authentic and respectful of diverse beliefs and worldviews while not losing sight of the heart of the Christian message.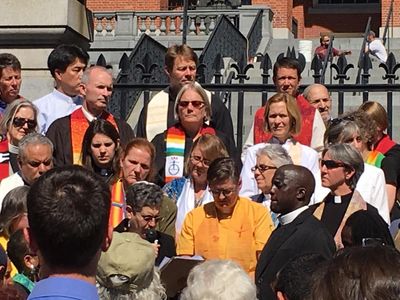 Rev. Dr. Michelle Walsh:  "While we may profess particular beliefs, it is through our actions that our beliefs are made living in this world–this is the essence of practical theology.  As a Unitarian Universalist clergyperson, practical theologian, and social worker, I appreciate the practical wisdom found in many different religious traditions around the world. The Moral Monday movement provides a crucial vehicle for shared action by lifting up the particular beliefs of each religious tradition as holding common moral ground for shared action and a fusion politics. The moral call lifts us collectively to our better selves and a new way of being and vision, countering the daily onslaught of divisiveness, hatred, fear, and despair in our midst.  This is why I participated in the State House rally that day."