CILSE – Construction Activity – Week of 1/15/17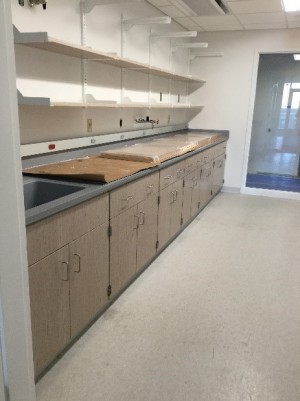 Ongoing sidewalk work — The sidewalk will be closed periodically along Commonwealth Avenue for vehicle access on the College of Communication (COM) and Morse Auditorium sides of the building. BUPD or BPD will be on site to direct pedestrians. The remaining sidewalk will be prepped and poured and a planter will be added at the corner of Hinsdale Mall and Commonwealth Avenue. As usual, Turner will notify BUPD in advance and will have both BUPD and BPD controlling public safety.
For the week of January 15, 2017:
Rain screen prep for fibreC panels will continue on the Morse side of the building. The team will continue working on the fresh air intake plenum on the soffit on the Commonwealth Avenue side. Forming and pouring concrete for the sidewalk will continue and a planter will be added at the corner of Hinsdale Mall and Commonwealth Ave. Granite stone planters will be installed at the entrance on the COM side. Underground utilities will be completed including drainage piping in the ally on the Cummington side.
Miscellaneous boarding and taping will continue on floor 1 as well as perforated ceiling boarding and taping in the east and west lobbies, commons, and colloquium. Above-ceiling electrical, mechanical, and sprinkler finish will continue on floor 1. Taping will continue at the communicating stairs on floors 4 through 6. Mechanical, electrical, and plumbing rough will continue in the fMRI room. Painting will continue on the east and west stairs and the communicating stairs. Millwork will continue floors 1, 8, and 9. Lab casework will continue on floors 8 and 9. Flooring will continue on floors 7 through 9. Installation of flooring will also continue in shielded rooms on floors 1 and 7.
Police details will continue to man the construction gates along Commonwealth Avenue as well as the Blandford Mall loading dock to ensure public safety. The safety of our community is our highest priority, so we ask that you please pay close attention to posted signs, police, and safety personnel