Archives 2015-2016
56th Annual Program
2015–2016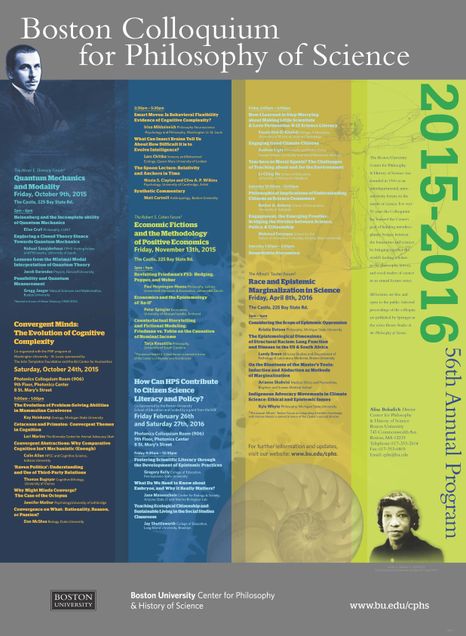 The Abner Shimony Forum*
Quantum Mechanics and Modality
Friday, October 9th, 2015, 2pm – 6pm
The Castle, 225 Bay State Rd.
Heisenberg and the Incomplete-ability of Quantum Mechanics
Elise Crull Philosophy, CUNY
| mp3 | Lecture Slides
Exploring a Closed Theory Stance Towards Quantum Mechanics
Nahuel Sznajderhaus CPHS Visiting Fellow andPhilosophy, University of Leeds
| mp3 | Lecture Slides
Lessons from the Minimal Modal Interpretation of Quantum Theory
Jacob Barandes Physics, Harvard University
| mp3
Possibility and Quantum Measurement
Gregg Jaeger Natural Sciences and Mathematics, Boston University
| mp3
* Named in honor of Abner Shimony (1928-2015), Center faculty member, in gratitude for his key contributions to the philosophy of physics and philosophy of science more broadly.
Convergent Minds: The Evolution of Cognitive Complexity
Co-organized with Washington University-St. Louis, Philosophy-Neuroscience-Psychology Program. Sponsored by The John Templeton Foundation, and the Boston University Center for Humanities
Saturday, October 24th, 2015,
Photonics Colloquium Room (906), Photonics Center, 8 St. Mary's St.
9:00am – 11:00am
11:15am – 1:00pm
'Raven Politics': Understanding and Use of Third-party Relations

Thomas Bugnyar Cognitive Ethology, University of Vienna

| mp3

Why Might Minds Converge? The Case of the Octopus

Jennifer Mather Psychology, University of Lethbridge

| mp3 | Lecture Slides

Convergence on What: Rationality, Reason, or Passion?

Dan McShea Biology, Duke University

| mp3
2:30pm – 3:45pm
Smart Moves: Is Behavioral Flexibility Evidence of Cognitive Complexity?

Irina Mikhalevich Philosophy-Neuroscience-Psychology and Philosophy, Washington U.-St. Louis

| mp3 | Lecture Slides

What Can Insect Brains Tell Us About How Difficult it is to Evolve Intelligence?

Lars Chitkka Sensory and Behavioral Ecology, Queen Mary University of London

| mp3
4:00pm – 5:30pm
The Spoon Lecture ~ Relativity and Anchors in Time

Nicola S. Clayton and Clive A. P. Wilkins Psychology, University of Cambridge, Artist

| mp3

Synthetic Commentary

Matt Cartmill Anthropology, Boston University

| mp3 | Lecture Slides
The Robert S. Cohen Forum
Economic Fictions and the Methodology of Positive Economics
Friday, November 13th, 2015 2pm-5pm
The Castle 225 Bay State Rd.
Revisiting Friedman's F53: Hedging, Popper, and Weber
Paul Hoyningen-Huene Philosophy, Leibniz Universität Hannover & Economics, Universität Zürich
Economics and the Epistemology of 'As-If'
Peter Spiegler Economics, University of Massachusetts, Amherst
| mp3
Counterfactual Storytelling and Fictional Modeling: Friedman vs. Tobin on the Causation of Nominal Income
Tarja Knuuttila Philosophy, University of South Carolina
| mp3
How Can HPS Contribute to Science Literacy and Citizenship?
Co-Sponsored by the Boston University School of Education and funded by a grant from the NSF
Visit the Conference Website here for more information
Friday February 26th and Saturday 27th, 2016
Photonics Colloquium Room (906)
9th Floor, Photonics Center, 8 St. Mary's Street
Friday 9:30am – 12:30pm
Opening Remarks

Hardin Coleman, Dean of Boston University School of Education

Fostering Scientific Literacy through the Development of Epistemic Practices

Gregory Kelly College of Education, Pennsylvania State University

What Do We Need to Know about Embryos, and Why it Really Matters?

Jane Maienschein, Center for Biology & Society, Arizona State U. and Marine Biological Lab

Teaching Ecological Citizenship and Sustainable Living in the Social Studies Classroom

Jay Shuttleworth College of Education, Long Island University, Brooklyn
Friday 2:00pm – 5:00pm
How I Learned to Stop Worrying about Making Little Scientists & Love Persuasion: K-12 Science Literacy

Fouad Abd-El-Khalick College of Education, University of Illinois at Urbana-Champaign

Engaging Good Climate Citizens

Andrew Light Philosophy and Public Policy, George Mason University and World Resources Institute

Teachers as Moral Agents? The Challenges of Teaching about and for the Environment

Li-Ching Ho School of Education, University of Wisconsin-Madison
Saturday 10:00am – 12:00pm
Philosophical Implications of Understanding Citizens as Science Consumers

Rachel A. Ankeny School of Humanities, University of Adelaide

Engagement, the Emerging Frontier: Bridging the Divides between Science, Policy, & Citizenship

Mahmud Farooque School for the Future of Innovation in Society, Arizona State University
Saturday 1:30pm – 3:00pm
Roundtable Discussion

Michael Matthews, Christine Baron, Yann Benétreau-Dupin, and Luciana Garbayo
The annual Robert S. Cohen Forum is named in honor of the Center's co-founder and first director.
The Alfred I. Tauber Forum
Race and Epistemic Marginalization in Science
Friday, April 8th, 2016 2pm-6pm
The Castle 225 Bay State Rd.
Considering the Scope of Epistemic Oppression
Kristie Dotson, Philosophy, Michigan State University
| mp3
The Epistemological Dimensions of Structural Racism: Lung Function and Disease in the US & South Africa
Lundy Braun, Africana Studies and Department of Pathology & Laboratory Medicine, Brown University
| mp3 | Lecture Slides
On the Bluntness of the Master's Tools: Induction and Abduction as Methods of Marginalization
Arianne Shahvisi Medical Ethics and Humanities, Brighton and Sussex Medical School
| mp3 | Lecture Slides
Indigenous Advocacy Movements in Climate Science: Ethical and Epistemic Issues
Kyle Whyte, Philosophy, Michigan State University
| mp3
The annual Alfred I. Tauber Forum on Integrating Scientific Knowledge with Human Needs is named in honor of the Center's second director.