COMtalk
COMWire
Honoring a Digital Optimist
Journalism Educator of the Year award salutes COM professor's commitment to change.
By Andrew Thurston
Above photo: Gregory Lee (left), president of the National Association of Black Journalists (NABJ), presents Michelle Johnson with the Journalism Educator of the Year award at NABJ's 2013 convention. Photo by Nicholas C. Johnson/NABJ
Monitor
Breaking: "Several explosions and injuries have been reported near the site of the Boston Marathon finish line. BU News Service reporters are headed to the scene. Updates to come."
The student-led BU News Service was beginning its coverage of a story—the bombing of the 2013 Boston Marathon—that would prove to be full of twists and turns. As shock gave way to the frenzy of a suspect manhunt, some established newsrooms became models of confusion, flashing out erroneous reports in the scramble for a scoop. By contrast, the student journalists at the BU News Service were filing stories that would later win them two awards in the national 2013 Online Journalism Awards: Breaking News in the small staff category and Student Project in the large staff category. That the service could be selected—less than a year from its establishment as a continuous news organization—alongside such august organizations as NPR and the New York Times owes much to the preparation and advice its reporters received from Michelle Johnson, a BU News Service faculty mentor.
Michelle Johnson says the one lesson she hopes will stick with her students is the importance of embracing change.
Associate Professor Johnson says her role with the service reflects her commitment to helping students "really stretch and show off what they know; I always have them doing things to get them out there practicing what we're learning."
In August 2013, the National Association of Black Journalists recognized Johnson's efforts by naming her its 2013 Journalism Educator of the Year for being "an exceptional journalist, a gifted teacher, a natural mentor and an innovative thinker."
A self-proclaimed "optimist about the digital future of journalism," Johnson says the one lesson she hopes will stick with her students is the importance of embracing change. "Twitter wasn't created for journalists, but somebody had the bright idea, 'OK, we're going to retrofit this and try to figure out how we turn this into a news delivery vehicle,'" she says. "That's the kind of thought process and innovation students are going to need. If they don't remember any software that I taught them, fine, but if they remember that, great."
Johnson says she's honored by her award, but—as you might expect from an educator of the year—thrilled about the awards garnered by her students.
"I love seeing my students excel," she says. "To see our students produce that kind of quality work in such a short time is just amazing. That's what makes teaching worth it."
Read more about COM students' coverage of the Boston Marathon bombings.
Storytelling in 2024
COM alums explore the future of media
"When I was growing up, feature films were kind of the pinnacle," says Jay Roewe ('79), senior vice president for West Coast Productions of Home Box Office (HBO). Not anymore. "I think some of the most creative and incredible opportunities are in television," he says. "The advent of the number of channels, the amount of time to be filled, and the respect for the creative process and the freedom television provides are amazing."
How exactly are television and new media changing the way we tell stories? And what will it take to succeed in the next 10 years of evolving media? COM alums Roewe and Michael Gunn ('07), a credited writer on Aaron Sorkin's HBO series The Newsroom, explored these questions when they visited COM in October to participate in the Film & Television Department's Cinemathèque series. See a clip from their conversation below.
Jay Roewe talks with Michael Gunn about how media is changing how stories are told. See more clips from the conversation.

Meet "the Billion-Dollar Princess"
. . . and all of COM's newest alumni award winners.
By Julie Rattey
COM's 2013 Distinguished Alumni Award winners span the media, working everywhere from the wrestling ring to the Oval Office. The College honored these four graduates on October 24: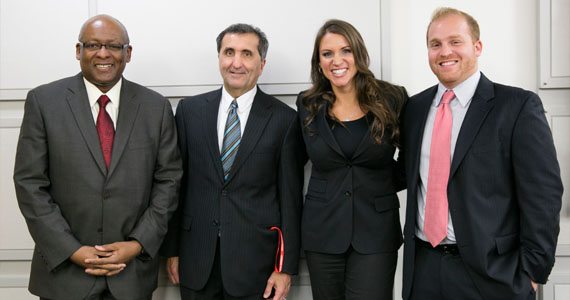 From left to right: Mark Walton ('76), Pete Souza ('76), Stephanie McMahon Levesque ('98) and Jeremy Christopher Hobson ('04). Photo by Katherine Taylor
The Marketing Mogul: He's worked in marketing and sales at CBS and The Africa Channel, but Mark Walton ('76) also has a knack for kick-starting his own endeavors. He most recently established Onyx Global Marketing, Inc., for public and private sector entities looking to work with Africa and its diaspora.
The White House Wonder: President and Mrs. Reagan hosting Michael Jackson? Princess Diana dancing at a White House gala with John Travolta? President Obama hugging Elie Wiesel (Hon.'74)? Pete Souza ('76), chief official White House photographer for President Obama (and previously an official White House photographer for Reagan), is the man who captured these moments.
The Billion-Dollar Princess: To her colleagues at World Wrestling Entertainment (WWE), Stephanie McMahon Levesque ('98) is executive vice president of creative. To fans, the daughter of WWE Chairman and CEO Vince McMahon and Linda McMahon is known as "the Billion-Dollar Princess." And to CableFAX magazine, she's one of the "Most Powerful Women in Cable."
The Hot-Topics Host: As cohost of NPR's daily interview program Here & Now, and as the former host of NPR's Marketplace Morning Report, Jeremy Christopher Hobson ('04) has interviewed everyone from Madeleine Albright to Warren Buffett.
Adstravaganza!
Calling all ad alums…
When Tobe Berkovitz launched Adstravaganza! in New York City nearly 10 years ago, he envisioned a social event—an evening for COM alums and professors to reconnect and "celebrate their time at BU and their careers in advertising." But when hundreds of go-getters meet, a healthy amount of business-card swapping is also bound to take place.
Today, the annual social is "the ultimate networking connector for advertising alums," says Berkovitz, an associate professor of advertising. This year, a "Mini-ganza" for COM alums and students was planned for spring break in New York; the main event will take place in Boston later this spring. To learn more, email Tobe Berkovitz.
The White House Wonder
As chief official White House photographer for President Barack Obama, Pete Souza captures moments alternately historic and humorous. In this shot, the president pretends to get caught in Spidey's web as he greets a staffer's son in the Outer Oval Office, Oct. 26, 2012. But if it weren't for Boston University, Souza ('76) might never have found his way to the White House. As he explained to Jeanna Radzinski ('14) in an October 2013 interview he gave while visiting COM to receive a Distinguished Alumni Award, he'd planned to pursue sports writing—until a BU photo class changed his mind. "I think it was just the magic of creating something and then watching it appear in the old tray developer," he said. —Julie Rattey

Pete Souza talks about his journey to the White House, and what it's like going behind the scenes with the president.
See more of Pete Souza's photos.
Watch more clips from Pete Souza's interview.
Paving the Way for a PR Superstar
Alum's gift creates PR professorship
Sandra Frazier, photo by Vernon Doucette
When Sandra Frazier entered COM as a master's student in public relations, entrepreneurship was hardly on her mind. "I didn't expect that I would, first of all, stay in the agency world as long as I did, or then go out and start a business of my own," Frazier ('01) said when she received a COM Distinguished Alumni Award in 2010. But when she launched Tandem Public Relations and Marketing LLC, in 2005, her COM training served her well, forming "a core curriculum that I use just about every day" as CEO and founding member of the Louisville firm. Now, Frazier—a BU Overseer and member of the COM Dean's Advisory Board—will help other COM students prepare for their careers: She's pledged $4 million to create a PR professorship. Her gift is one of the two largest commitments of private support in the College's history. "Sandra's commitment to COM—and especially to the public relations program—is second to none," says Dean Tom Fiedler ('71). "We're excited by the opportunity that this makes possible. With this gift we can attract a superstar in the field."
From 90210  to 02215
Aaron Spelling Scholarship Fund launches
Thanks to the family behind Beverly Hills, 90210, Charlie's Angels and The Love Boat, promising COM undergrads are about to get a boost. Candy Spelling, who was married to the late television producer Aaron Spelling for 38 years, visited Boston University in October to announce the $1 million Aaron Spelling Scholarship Fund. The gift, which will be matched through the University's Century Challenge for endowed scholarships, will provide annual, need-based scholarships to COM undergrads studying film, television or new media who demonstrate "exceptional talent and potential for success."
Spelling's announcement coincided with the opening of the Howard Gotlieb Archival Research Center's exhibition Aaron Spelling: A Retrospective of Prime-Time Success, featuring the producer's annotated scripts, awards, letters and family photographs.
"In honor of Aaron, may his legacy live on to provide the opportunity for students to learn, grow and continue to revolutionize entertainment," said Candy Spelling. "I look forward to seeing your names in the credits."