COMtalk
NECIR
COM-based journalists are putting the powerful on their toes.
By Patrick L. Kennedy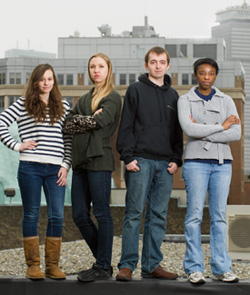 The water is still dirty. In 1979, scientists found industrial solvents in the municipal water supply in Woburn, the small Bay State city where the childhood leukemia rate was four times that of the national average. The contaminated wells were closed, but more than three decades later, chemicals remain, despite a cleanup effort costing taxpayers as well as polluters upwards of $21 million.
And Woburn, made famous in the book and film A Civil Action, is not alone. Across Massachusetts, 20 sites have sat on the federal Superfund list—meaning they may pose an imminent health risk—since the 1980s. With several of these being military facilities, the government itself may be on the hook for millions of dollars.
We now know all this, thanks to the digging of the New England Center for Investigative Reporting (NECIR) at Boston University. NECIR is the nation's first university-based, nonprofit investigative reporting newsroom focused on local and regional issues. From a cramped office in the College of Communication basement, center co-directors Joe Bergantino and Maggie Mulvihill have led a team of students and freelancers in uncovering fraud, malfeasance and threats to the public health. Working for up to several months on each project, NECIR has sold stories to the Boston Globe, WCVB-TV, WBUR and, crucially, to many of the region's midsize and small city daily newspapers, some of which don't have the staff to do deep investigative reporting.
In the group's three years in operation, NECIR reporters have completed 32 major investigations. They found that the utility giants were spending hundreds of thousands of dollars to kill a legislative bill that would enable public competition. They unraveled a complicated inner-city mortgage scam that had put unsuspecting tenants out on the street. They discovered that underfunded state regulators had become so lax in their oversight of polluters that in one case, black snow fell on a Maine town.
Beyond simply shining a light on such abuses and failures, NECIR reports have spurred changes and won awards. After the center exposed contractors who failed to disclose workplace safety violations when bidding on stimulus-funded transportation projects, the Massachusetts attorney general levied fines on the companies, totaling more than $160,000. In her testimony during Beacon Hill budget hearings, the head of the Mass. chapter of the National Alliance on Mental Illness began by reciting two paragraphs of a NECIR report showing how cutbacks in mental health services were leading to a strain on EMT and police resources, the court system and jails. And late last year, NECIR's in-depth look at inequities in the state's juvenile justice system sparked an important conversation among advocates and legal experts that may affect the outcome of a Supreme Court case this summer.
What's more, NECIR has been a model for a wave of similar centers across the country by assembling revenue streams and charting a course to sustainability.
"Two journalists operating a small business—it sounds like a recipe for disaster," says Bergantino. "But we have managed to figure this out." In addition to fundraising and selling content, NECIR brings in money with training sessions and workshops, teaching high school students, citizen journalists and even mid-career reporters from overseas how to dig through public records and build stories. That's in addition to taking on COM students who apprentice under Bergantino and Mulvihill for course credit: The two veterans have schooled more than 50 interns since they founded the organization.
"That's the big picture of why we're here," says Bergantino. "It's not only to do investigative reporting, to help fill that void at the local level; it's also to create a new generation of young journalists who are really passionate about the critical role that investigative reporting plays in our society."
"Investigative reporting is alive and well at the national level," says Mulvihill, but in late 2008, she and Bergantino—then colleagues at Boston's WBZ-TV—realized it was disappearing from the newsrooms of local network affiliates and small-market papers, a casualty of shrinking ad revenues.
"What was called 'investigative reporting' was a consumer story," she says. "It wasn't a true investigation that requires public records requests and data analysis and much, much, much work and a lot of interviews.
"So we decided to create something akin to the Center for Public Integrity [a journalism nonprofit in Washington, D.C.], which we've always admired, here in Massachusetts."
Dean Tom Fiedler gave Bergantino and Mulvihill, a COM clinical professor, a home at 640 Comm. Ave., offering institutional support in the form of office space, a small portion of their salaries and some expenses—supplies, printing, postage, libel insurance and travel. And with a $250,000 seed grant from the John S. and James L. Knight Foundation, NECIR was off and running.
The initial goal was to produce three or four big stories a year. With a few regular freelancers and a lot of hard work on the part of COM student reporters-in-training, the center has tripled that output.
"Ninety percent of our reporting is done by professional journalists, with the assistance of students," says Bergantino. "But these kids are getting really extensive training that they wouldn't get anywhere else."
"They're doing FOIA [Freedom of Information Act] requests, hunting down sources," says Mulvihill, "making phone calls, getting and analyzing data from the government, fighting when they're shut out of a meeting. . . . It's not just running out and covering a story or interviewing a politician. It's finding project ideas—the stuff people are not looking at, what's not being covered—and learning how to get access to information that's very difficult to get access to.
"What's wonderful is that they get really enthused and excited about doing bigger-picture stories. Our students have gotten bylines on lots and lots of projects—front-page stories in the Boston Globe and other news outlets all across New England."
That's certainly helped them get jobs after graduation. Says Lowell Sun reporter Sarah Favot ('11), "I know that it's really important to the Sun that their reporters know the public records law and what they're entitled to and how they can get it. I learned that working with Maggie and Joe."
"The Founding Fathers didn't put into place a First Amendment because they wanted us to do pieces about Britney Spears and Lindsay Lohan,"
says Bergantino.
Employers also appreciate these graduates' skills in analyzing that data. "Maggie showed me everything I know on Excel and Access," says Favot, who used the software to study campaign finance records and workplace safety data. "Any sort of computer-assisted reporting, I learned at NECIR. Not just in the classroom learning it or hearing about it, but doing it, and learning how to make a story from the data you're finding."
Filming or transcribing interviews, Favot got to observe a master at work. Bergantino holds several Emmys, including the 2007 Best Investigative Reporter in New England. "I learned a lot from watching Joe," Favot says. "Joe's style is—I don't want to say 'relentless,' but obviously there are the hard questions people don't want to answer, and Joe will keep asking them in a different way. He won't back down."
Students also learn that this kind of deep reporting takes a great deal of patience and persistence. Favot worked on a story, published in the Globe in December, about the inconsistent sentencing of teens convicted of murder. "I did a lot of research, a lot of digging, scouring news clips and then going to the courthouse and pulling case files and reading them, and taking part in interviewing victims' families and family members of the juveniles convicted or charged."
Some prosecutors would tell Favot, mistakenly, that the data she sought was not public record because it involved juveniles. Mulvihill, a media lawyer and a member of the steering committee of the D.C.-based Reporters Committee for Freedom of the Press, would have none of that. "As a young reporter," says Favot, "if you're denied something, you just think, 'Oh, I can't get it.' But Maggie, who's experienced and knows better, would always be there to say, 'No, they have to give it to you; keep pressing them.' "
In the end, NECIR created the first-ever data compilation of all teenage killers charged in Massachusetts since the 1996 passage of one of the nation's harshest sentencing laws. Their analysis showed that youngsters who had committed similar crimes faced vastly and seemingly randomly disparate consequences, from parole within a few years to life imprisonment without parole.
"It's not easy to write about rape or government contracting or juvenile justice issues," says Mulvihill. "This stuff takes a long time to get and synthesize and analyze. It costs money. So they're learning some journalistic staying power, not to have a short attention span; that there are stories worth doing that will be really time-consuming and detail-oriented and tedious but that can have a constructive effect on public policy or on a victim's life."
These are lessons rookie reporters are less and less likely to learn in the typical daily grind, says Mulvihill, who spent time at the Boston Herald as well as WBZ. "From my own experience in all the newsrooms I've worked in, I know training is really limited."
Training, in fact, is key to NECIR's mission. The co-directors have hit upon a winning combination of revenue sources, with training paying a large share of the bills.
"The need for training is obvious," says Mulvihill. "Once we started announcing we were going to do it, people came to us. So there's definitely a market for it, which we didn't realize when we started the center."
Offering an international certificate in investigative journalism, NECIR has trained journalists from Asia, Africa, the Middle East and Latin America. The center also holds workshops in watchdog reporting methods for small-town reporters, ethnic media, bloggers and citizen journalists throughout New England. And every summer, high school students come to COM to learn what they can of the profession. "Last summer we had two 2-week sessions," says Bergantino, "with students from 15 states and seven countries."
Allaying the concerns of some industry observers, the center has also managed to sell (rather than give away) its content, peddling it to papers such as the Berkshire Eagle, Cape Cod Times and Springfield Republican. In all, a dozen newspapers, TV stations and radio stations subscribe to a monthly service of NECIR's called "The Public Eye." The center also has a separate deal with WBUR, sells individual stories to the Globe and does contract work for the Center for Public Integrity.
At the same time, the foundation support hasn't dried up. "We've never been turned down for a grant we've applied for," says Mulvihill. The Knight Foundation has given another $400,000 since its initial seed grant, and other organizations have chipped in, such as the Ethics and Excellence in Journalism Foundation, the Open Society Foundations, the Robert R. McCormick Foundation, the Hearst Foundations and the Fund for Investigative Journalism, for a total just shy of $1 million. BU and individual donors do their part, too. "We can't do it without the support of this University and the alumni who believe in this kind of work and understand its importance," says Bergantino.
All told, by the end of 2011, NECIR matched in earned revenue what it received in grants, donations and institutional support. That was an exciting benchmark that attracted notice around the profession.
Indeed, NECIR has become a leader in a movement.
"After we launched in 2009, almost within days people started calling us from all across the country, wanting to start centers like this," says Bergantino. "And they have, and we helped mentor many of them." Today, dozens of these organizations are linked through the Investigative News Network, a collaborative that NECIR co-founded.
"In addition to our helping mentor these other centers into existence, they have looked to us for ideas on how to sustain themselves by creating earned revenue streams," says Bergantino. "So our high school program is being duplicated in California and Colorado, and probably will be duplicated elsewhere. Our content sale model, same thing."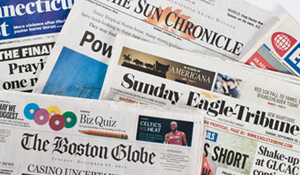 "It's been really fulfilling to know we helped give birth not just to this one center, but to a number of others," says Bergantino. And, adds the graduate of what he calls "the Watergate class" of the '70s, "It's very fulfilling to basically inspire students to take up this work," reminding them that the purpose of the Fourth Estate is to keep the powerful accountable to the public.
"Try to imagine the United States without ever having had any investigative reporting. Richard Nixon would be a former long-gone revered president. Spiro Agnew would have been president, probably. We'd still be drinking contaminated cranberry juice, if it weren't for Rachel Carson. Children would continue to be molested by pedophiles in all kinds of institutions.
"The Founding Fathers didn't put into place a First Amendment because they wanted us to do pieces about Britney Spears and Lindsay Lohan," says Bergantino. "Their main purpose for creating a free press in this country was to make sure there was another set of eyes on the government and on big institutions. And that's why we do our work. And we need more people out there doing it, and more people out there enthusiastic and passionate about it."
Bergantino's own enthusiasm is infectious. Favot, who majored in English and education studies before coming to COM for grad school, is just one of dozens of students to have caught the bug after hearing Bergantino make his pitch at Orientation. "I had no idea before I started working there that I'd be interested in it," she says. "But now I have that as a goal for my career: I want to be an investigative reporter."
Know a high school student who would like to learn investigative reporting techniques this summer? Want to donate to NECIR? Got a news tip? Visit www.necir-bu.org. ■