Reducing Strain on City Services
Our philosophy: don't impose on Boston's services when we can share the responsibility.
We're one of Boston's top taxpayers, yet we seek ways to avoid straining city services.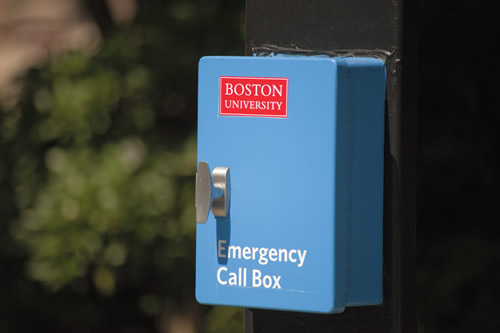 Boston University actively seeks ways to reduce the demand on the city's services. We hire a dedicated Boston University police force to provide around-the-clock coverage of the Charles River and Medical campuses. University police even back up Boston, Brookline, Cambridge, and State Police when necessary and help the City of Boston issue parking tickets.
Boston University representatives ride along with Boston and Brookline police on designated weekends to ensure prompt response to neighborhood concerns involving students' off-campus behavior, and otherwise cooperate with the community on issues of traffic management, fire safety, and crime prevention.
We also provide our own daily maintenance of sidewalks, MBTA tracks, and streets around the campus. We remove our own snow and trash. We also plant trees and provide pest control, saving the city more than $1.3 million annually.
A safer, quieter Commonwealth Avenue.
The Commonwealth Avenue Improvement Project has been an undertaking by the Massachusetts Highway Department partnering with the City of Boston and Boston University to improve pedestrian safety, minimize traffic congestion, and enhance the environment of the University's Charles River Campus. Now completed, the project has made Commonwealth Avenue significantly safer and beautified the area too. Now in place are comfortable benches, attractive planters, and new trees. Not to mention Boston's first bike lanes. We've finally achieved the design of a main thoroughfare that's safer and more aesthetic. A true Main Street for one of the world's great urban universities.
In collaboration with city, state, and federal agencies, Boston University has contributed more than $3.9 million to Kenmore Square improvements and $13 million to the Commonwealth Avenue Improvement Project.