Making a Difference in High Schools
The University is committed to education in our classrooms and beyond.
"BOSTON UNIVERSITY HAS TAKEN THE NEXT STEP OF MAKING AN EDUCATION AFFORDABLE TO ALL QUALIFIED BOSTON PUBLIC SCHOOL STUDENTS. THIS LATEST INVESTMENT SYMBOLIZES THE UNIQUE RELATIONSHIP BOSTON UNIVERSITY ENJOYS WITH THE CITY OF BOSTON."
THOMAS MENINO
Mayor, City of Boston
The nation's first and largest scholarship program for urban public schools is right here on Commonwealth Avenue.
Since 1973, the Boston High School Scholars Program has helped secure a higher education for students who otherwise might not be able to go to college.
This program, the longest-running and largest in the country, awards four-year, full-tuition scholarships to Boston public high school seniors selected not only for academic achievement, but for a determining quality not measured by SAT scores: motivation.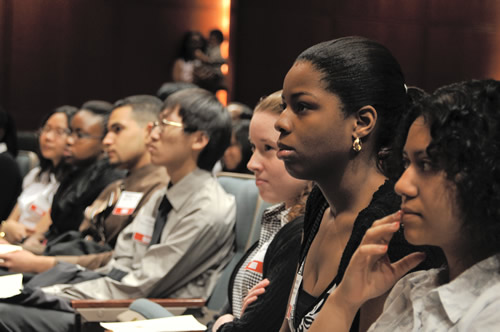 Since its inception, the program has provided more than $139 million to 1,800 students.
Since 2009, Boston University has expanded the opportunities for Boston public high school students by awarding community service scholarships, which meet the full calculated financial eligibility of any admitted Boston public schools high school graduate.  In FY11 alone, the University committed $10.8 million to 320 Boston residents, representing an increase in diversity and in students who are the first in their family to attend college.
Moreover, Boston University awards four-year scholarships to outstanding graduates of Roxbury Community College. Boston public school teachers and Boston city employees are also eligible for scholarships to graduate programs at Boston University.