Improving the Health of the Community
Just as important to us as the health of our students is the health of our neighbors.
Yes, we're known as Boston's University. We're also known as Boston's hospital.
Boston University School of Medicine has been at the frontier of medicine ever since 1848, when it began as the New England Female Medical College. It was the first institution in the world to offer medical education to women and graduated the first black woman to become a physician. In 1873, the medical college merged with Boston University, becoming the first coeducational medical school in the nation. The school continues its history of innovation and leadership in medicine by providing a full range of health services to diverse patient populations in Boston and New England.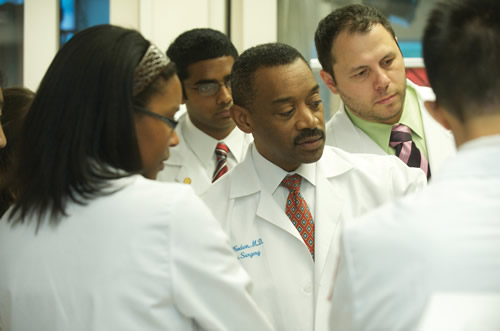 Today, Boston University's Medical Campus in the South End is a modern urban academic health complex that includes the School of Medicine, the Division of Graduate Medical Sciences, the School of Public Health, the Henry M. Goldman School of Dental Medicine, and Boston Medical Center. The Medical Campus also hosts BioSquare and a growing number of biotechnology firms.
Boston Medical Center (BMC) was formed by the 1996 merger of the Boston University Medical Center Hospital and Boston City Hospital. The BMC is the principal teaching affiliate of the Boston University School of Medicine. With its mission to provide consistently accessible health services to all, Boston Medical Center is the largest safety net hospital in New England. This rich concentration of medical educators, researchers, and health care professionals represents a major resource for residents of the many Boston communities that receive direct services, especially the South End, South Boston, Roxbury, and Dorchester.
The Boston Medical Center serves thousands of uninsured patients a year. In fact, one of every two uninsured patients who seek medical care in Boston receives it from health care professionals at Boston Medical Center. They even make house calls.
A doctor in the house—and nurses, too.
Since the 1870s, Boston University has been making house calls to homebound seniors as part of the School of Medicine's Home Care Program, the oldest continuously func-tioning physician home visiting program in the country.
The program takes a team approach to geriatric care, sending not only physicians but nurse case managers and practitioners, a flexibility which allows for coordinated care of patients in homes, offices, nursing homes, and hospices. The program incorporates a strong educational component, which introduces all BU medical students and many residents to the benefits and best practices of home care. This learning is critical because as the population of Boston ages, the number of homebound elders will increase, and so will the need for physicians trained to work outside the office.
"IT'S EASIER TO UNDERSTAND AND MANAGE THE CONDITIONS OF OUR PATIENTS WHEN WE SEE THEM AT HOME."
ERIC HARDT, MD
24-year veteran and clinical director of BU School of Medicine's Home Care Program