Morgan Freeman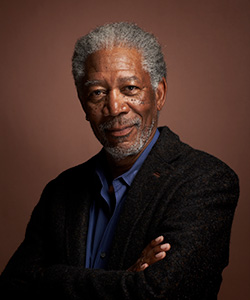 DOCTOR OF HUMANE LETTERS
Born in Memphis, Tennessee, in 1937, Morgan Freeman took up acting at a young age, winning a statewide drama competition in Mississippi at age 12. After serving in the U.S. Air Force, he studied acting and dance in Los Angeles and later found roles in musical theater and films. He made his Broadway debut opposite Pearl Bailey in an all-black revival of Hello, Dolly! in 1968, and later gained broad national exposure on PBS's The Electric Company.
In theater, he earned his first Obie playing the title role in Coriolanus in 1980, and additional awards for roles in The Gospel at Colonus and the stage version of Driving Miss Daisy.
Mr. Freeman made his breakthrough into major films with Brubaker in 1980, with Robert Redford. He received his first Academy Award nomination, and won the National Society of Film Critics Best Supporting Actor Award, for Street Smart in 1987. He earned the Golden Globe Award, along with an Oscar nomination and many other honors, for best actor for his 1989 performance in Driving Miss Daisy.
For his role as Red in The Shawshank Redemption in 1994, Mr. Freeman received Oscar and Golden Globe nominations. For Million Dollar Baby in 2004, he received his fourth Oscar nomination and his first win, for best supporting actor. He received a fifth Oscar nomination for his 2009 portrayal of Nelson Mandela in Invictus.
With more than seventy films over his career, Mr. Freeman has established himself as a leading figure in Hollywood. He has played roles that range from a freed slave, to president, to God. With his rich and distinctive voice, he has served as narrator for many films, including March of the Penguins, and he provides the introduction to the CBS Evening News.