Deval Patrick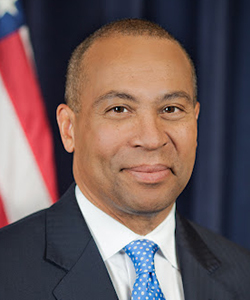 DOCTOR OF LAWS
Massachusetts Governor Deval Patrick, who was born on the South Side of Chicago and raised by a single mother, first came to Massachusetts in 1970 at the age of 14. A motivated student despite the difficult circumstances of poor and sometimes violent Chicago schools, he was awarded a scholarship to Milton Academy through A Better Chance, a Boston-based organization. From that time forward, he has said, Massachusetts people, schools, and institutions have given him the opportunity to excel.
Governor Patrick, the first in his family to attend college, is a graduate of Harvard College and Harvard Law School. After serving as a law clerk for Judge Stephen Reinhardt of the 9th U.S. Circuit Court of Appeals, he pursued a successful career in the private sector as an attorney and business executive, rising to senior executive positions at Texaco and Coca-Cola. In 1994, President Clinton appointed him as Assistant Attorney General for Civil Rights, the nation's top civil rights post.
First elected in 2006, Governor Patrick, despite a challenging economic environment, has maintained or expanded the state's investment in critical growth sectors while cutting state spending. Governor Patrick has funded public education at the highest levels in the history of the Commonwealth, and its school reform initiatives earned Massachusetts the top spot in the national Race to the Top competition. Additionally, the Governor has positioned the state as a global leader in biotech, biopharmaceuticals, and information technology, and as a national leader in clean energy.
Governor Patrick has committed the state to renewing its aging infrastructure and oversaw the expansion of affordable health care insurance to more than 98 percent of Massachusetts residents. The Patrick administration also accomplished major reforms in the state's pension systems, ethics laws, and transportation bureaucracy.
Diane and Deval Patrick have been married for more than twenty-five years and have two adult daughters.