Celebratory Events & Activities
Each year, BU plays host to a number of events for graduates and families during Commencement Weekend. Some events require registration and ticket purchase.
Scroll down or click the links below to jump to event descriptions & to purchase tickets:
Thursday, May 16 events:
BU Senior Party at Boston's Lawn on D
Umoja's Rite of Passage
Scarlet Key Induction Ceremony
Friday, May 17 events:
BU Hillel Worship Services & Events
Saturday, May 18 events:
Riverboat Cruise on the Charles
105th BU Night at the POPS
Sunday, May 19 events:
Baccalaureate Service

BU Senior Party at Boston's Lawn on D – Friends & Family Welcome!
Thursday, May 16, 11 am – 3 pm
Lawn on D
420 D Street, Boston, MA 02210
A true senior send-off we have for you! Come to an exclusive BU Senior party at Boston's Lawn on D! Enjoy the iconic swings, music, and all the best lawn games. Join us on the lawn starting at 11:30 am. Even better, hop the shuttle from campus and we'll bring you downtown. We'll scan your Eventbrite ticket at the door! Family and Friends welcome to the Lawn with an additional ticket price of $20.00.
Guests must be accompanied by a BU Senior upon check-in. Guest tickets can be purchased and seniors can register for free at the link below:
BU Senior Party at Lawn on D Tickets

Umoja's Rite of Passage
Thursday, May 16, 12 pm
College of General Studies
871 Commonwealth Avenue, Jacob Sleeper Auditorium
Umoja's Rite of Passage, the university's annual commencement weekend celebration for Black undergraduates, will be taking place on May 16th in the College of General Studies, Jacob Sleeper Auditorium. Join us for this historic celebration of Black success! The $25.00 admission fee will include the cost of the Class of 2019 kente cloth stole. During the ceremony, you will be given the stole and have a faculty member, family member, or friend of your choosing drape the stole over you. Space in the auditorium is limited and it is recommended that your guests arrive early, although we cannot guarantee seating for any guests.
Black-identifying graduating seniors may register online at the link below:
Umoja's Rite of Passage Registration

Scarlet Key Induction Ceremony
Thursday, May 16, 5:30 pm
Joan & Edgar Booth Theatre
820 Commonwealth Avenue
Join the Boston University Alumni Association as the 2019 Scarlet Key recipients are inducted.  The Scarlet Key honor is awarded to those students who have exhibited exceptional leadership among their peers during their years at Boston University. Selection for Scarlet Key is based on excellence in University student activities and organizations, commitment, involvement in the individual's School or College, and in scholarship.

BU Hillel Worship Services and Events
All services are student-led and are available based on attendance. We hope you will join us to increase the joyful energy for all who participate. All services and events held at BU Florence and Chafetz Hillel House, 213 Bay State Road.

Register/purchase tickets online now:
Friday, May 17
6:30 pm: Champagne & Hors d'oeuvres Reception for Graduates and Families – $10.70 per person
7 pm: Shabbat Services: Reform, Conservative, Orthodox (No charge to attend, but please register)
8 pm: Dinner & Awards Ceremony – $26.75 per person
Saturday, May 18
Saturday Hillel events have been cancelled due to low registration. Friday events will still take place as scheduled.
Meal prices include a 7% MA meals tax.

Riverboat Cruise on the Charles
Saturday, May 18
Deerfield Sailing Dock
Relax with family and friends as you cruise down the Charles.  See the sun playfully reflect off the State House Dome and marvel at the beauty of Boston's skyline during this 30-minute narrated tour.  Cruises held rain or shine. Boats depart from the Deerfield Dock, with access across the footbridge on Silber Way.
Purchase tickets online now through Monday, May 13, 5 pm EDT.
Departures begin at 9:30 am. Last departure is 2:25 pm.
Duration: 30 minutes
$10 per person
Departure times:
Morning: 9:30 | 9:45 | 10:10 | 10:25 | 10:50 | 11:05 | 11:30 | 11:45
Afternoon: 12:10 | 12:25 | 12:50 | 1:05 | 1:30 | 1:45 | 2:10 | 2:25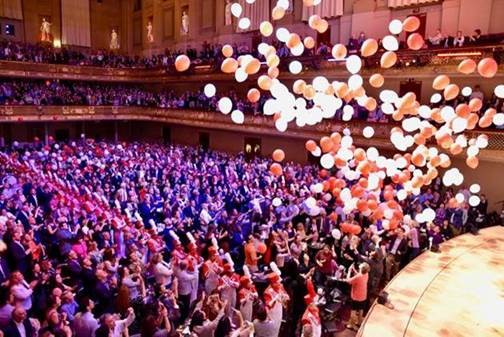 105th BU Night at the POPS
Saturday, May 18, 8 pm
Boston Symphony Hall
301 Massachusetts Avenue
Join classmates and their families at one of our oldest commencement traditions – BU Night at the POPS.  A celebration of the 50th anniversary of the 'Summer of '69"- from the moon landing to rock and roll. The POPS will be featuring a new co-commission for orchestra and narrator in honor of the 50th anniversary of Apollo 11 called From the Earth to the Moon and Beyond by composer Jim Beckel.  The evening will also feature appearances by the BU Band and our own baton-wagging Rhett.  A truly unforgettable night of music. You can choose from seats in the first or second balcony, or on the floor, where each table has five seats, as set by Symphony Hall. Starting at 7 pm, we provide free shuttle buses to and from Symphony Hall.

Ticket prices range from $25 to $96/per person.
Purchase tickets online now through Monday, May 13, 5 pm EDT.
See seating chart for details: 
Floor
First balcony
Second balcony
*Notice: Tickets purchased before April 16 will be mailed to your billing address. Cancellations are not possible after April 16. Tickets purchased after April 16 WILL NOT be mailed, these tickets will be held for pickup at Warren Towers front desk (700 Commonwealth Avenue) from Thursday, May 16 at 3 pm until Saturday, May 18 at 5 pm. On the evening of the event, any remaining tickets will be held at the BU Will Call table at Symphony Hall.

Baccalaureate Service
Sunday, May 19, 11 am
Marsh Chapel
735 Commonwealth Avenue
The Rev. Dr. Robert Allan Hill, the sixth Dean of Marsh Chapel, leads the University in this historic annual service. Rooted in the University's Methodist origins, the Baccalaureate service is interdenominational and includes participation by President Robert A. Brown and University Provost Jean Morrison. Music by Scott Allen Jarrett, the Marsh Chapel Choir, and Majestic Brass accompanies the service.  All graduates and their families are welcome.