Putting It Together

May 21, 2015

Watch the setup, celebration, and breakdown of BU's 142nd Commencement on Nickerson Field May 17. Time-lapse footage was recorded from the Nickerson press box from May 8 to 18, with an image saved every 10 seconds.

Pépin Shares Recipe for Fulfillment

May 21, 2015

Jacques Pépin began cooking as a child, helping out at his parents' restaurant in Bourg-en-Bresse, near Lyon, France. He had a gift, and he braised and sautéed his way to the position of personal chef to three French presidents, among them Charles de Gaulle. But Pépin (Hon.'11) dreamed of success in America, where he arrived to […]

Making a Statement

May 21, 2015

How do you stand out when 5,000 or so people are dressed just like you? For many at BU's 142nd Commencement May 17, the solution was simple: they decorated their mortarboards with personalized messages reflecting their passions and interests. Some used their caps to give a shout-out to the parents who've supported them, others chose […]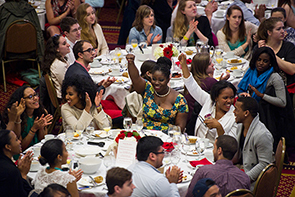 The choice of Commencement speaker Meredith Vieira and Baccalaureate speaker Cornell William Brooks (STH'87) was greeted by cheers at Senior Breakfast. More about the Speakers & Honorees.
CONNECT WITH US
Get the latest on 2015's festivities when you visit us on Facebook and Twitter.