London Graduate Mass Communication Summer Program
The Boston University London Graduate Mass Communication Summer Program combines an internship, related coursework, and independent living. Students spend 11 weeks (late May – early August) studying global marketing communication and mass media while participating in a full-time internship. The first five weeks are spent taking two core courses. In the last six weeks, students work full time in their internships and complete a research project or thesis. All courses are offered at the graduate level and students take classes at the centrally located BU London Academic Center.
Open to students in the following COM masters programs:
Advertising
Communication Studies

International Affairs with a Specialization in International Communication

Marketing Communication Research*
Public Relations
*Students in the M.S. Mass Communication: Marketing Communication Research Track will be required to return to Boston to take a required course during the fall semester directly following completion of the London program. 
**See these slides to view examples of past London program students' schedules.
Program Curriculum
COM CM 738: 

Global Marketing Communication

COM CM 744: 

British Media in the Digital Age

COM CM 809: 

Graduate Internship

COM CM 909: 

Thesis or Research Project
Please note there is no flexibility in the courses students can take during the program.
Interning in London:
BU partners with EUSA to place students in internships. Prior to departure, a EUSA representative will interview each student about their internship preferences. EUSA will then email the student with information about their placement and set up an internship interview to ensure it is a good match.
Students interned at the following companies in 2016 and 2017:
AD Creative
Allegra Strategies
Bell Pottinger
BrandNation
Clement Worrall
Corbis Entertainment
Feref PR
Grayling
Halpern
Health Unlocked
Imaginative Exposure
IRIS
Iroquios PR
Joey Wears
Judy Wu
Kallaway PR
Kameleon
LD Communications
Matchday Fantasy
MEC Global
Peoplematter
Purple PR
Ralph Lauren Home
Sparefruit
Sponsorship Intelligence
SquareMeal
WTF Creative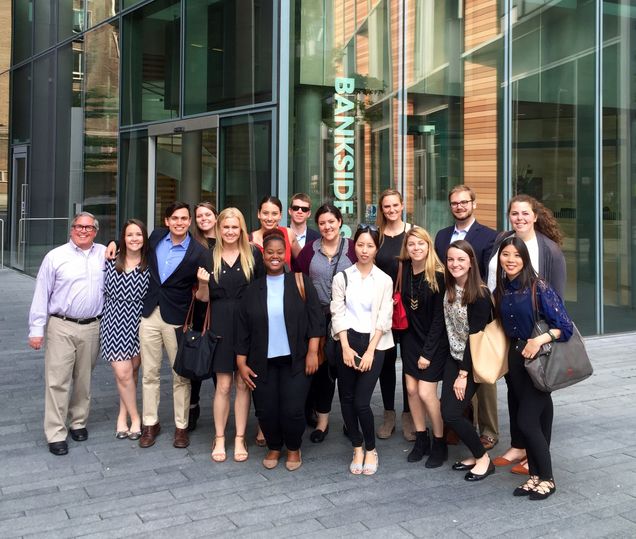 Important information
Participating in this opportunity takes careful planning from the beginning of a student's program. It is up to the student to ensure completion of their program's required courses.
Students who are planning to go to London cannot take an internship for credit during the spring semester preceding the program.
Advertising MS students must take AdLab during the spring semester preceding the program.
Students may apply their COM scholarship to the London program summer semester.
The majority of students who participate in the London program will complete their degree during the summer and have an official graduation date of September 25. If a student is interested in extending their program past the London summer, contact kbring10@bu.edu.
Applying
The application is typically available in early November and the application deadline is February 15. Applications will be reviewed after that date and students typically find out if they have been accepted by early March. There are 20 spaces available in the program.
Graduate students currently enrolled at Boston University are not required to submit a recommendation or transcript.
In order to bypass the recommendation, students should enter Kayla Ring (kbring10@bu.edu) as their recommender. Note: Kayla will check that the applicant's GPA meets the minimum requirement of 3.0 before completing the recommendation.
Program Contacts
Interested in learning more?
Tobe typically holds an information session for interested students in October. There will also be a pre-departure meeting with Tobe, Meghan and BU London staff after students are admitted to the program, where housing, visas, internships and other details are discussed.
London program website: bu.edu/abroad/programs/london-graduate-mass-communication-program/