Be What's Next. Media Ventures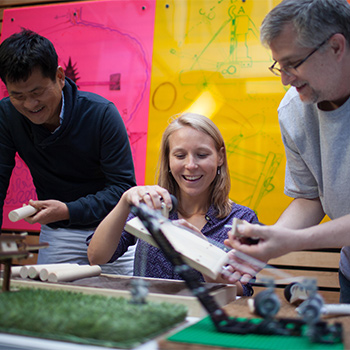 The future belongs to the innovators. The dreamers who are also do-ers. It starts with creativity at the convergence of media and technology. Ideas that not only cross platforms, but anticipate new ones.
But it also means knowing how to apply those ideas. That's what being a do-er is about. And what the Master's in Media Ventures is about: our faculty teaches you the skills, strategy and process of developing your ideas to build a successful career.
So whether you've got the next killer app or want to take a traditional industry leader to the next level, get ready to create the media's future. And your own.
Take the next step.
---
Roll up your sleeves.
This is no passive program. Designed by leading media executives, the Master's in Media Ventures curriculum is very much hands-on and career-oriented.
Start with an idea and build it out over the course of the program—complete with prototype and business and marketing plans. Then, pitch it to a panel of leading media executives and entrepreneurs. Media Ventures faculty, COM alumni, and biz-savvy mentors coach you through the process, one on one.
---
Prepare for the real world in the real world.
One year, two coasts.
As part of the program, you'll have the opportunity to complete two internships at start-ups or traditional media companies. You'll gain crucial real-world experience and a network of industry contacts.
Media Ventures is a 12-month, three-semester program. Spend the fall in Boston, taking classes, developing your innovative concept and honing your pitch. Then, in the spring, head to Los Angeles to experience innovation in the entertainment industry, or stay in Boston for training at tech start-ups and media hubs. All Media Ventures students spend the summer in LA, completing an internship and gaining industry contacts.
---
The next move is yours.
Ready to follow in the footsteps of alums working in strategic, creative positions at places like Hulu, Bloomberg, Twitter, Wasserman and Pluto TV? Get the know-how, skills and confidence to launch the next phase of your career.
Take the next step.