Put data, and yourself to work.
We are in the midst of an information explosion. Not just in amount of data, but advances in how to collect, analyze, and apply that data within the consumer insights industry. We try to figure out what's going on in people's heads – from consumers' media consumption and purchasing behaviors to thought and decision-making processes about brands, services, products, and even political candidates.
Nowhere is the huge growth of the information industry more pronounced than in the field of marketing communication research (also known as marketing research and the consumer insights industry). This area offers many lucrative entry-level positions and excellent prospects for advancement. Recent graduates from this program are working as marketing research analysts, consumer data analysts, data visualization and analytics consultants, and market planning strategists, among others.
Seize those opportunities. BU's Master of Science in Mass Communication with a concentration in Marketing Communication Research uniquely prepares you for this booming industry. Our program will prepare you for both the theory and the practical know-how and expertise to be able to get the job done, on the first day of your employment and for years beyond.
Follow us on social media.
---
What you'll learn.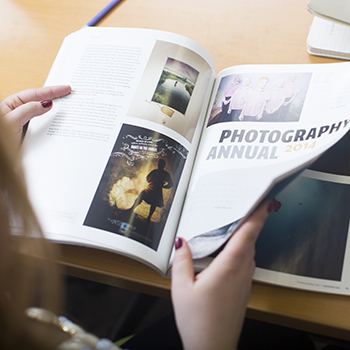 The three-semester program trains you in rigorous academic research methods and their application. You'll learn how to influence your target audience by getting inside their heads, extracting information about their values, likes, needs and wants and matching that knowledge to communication strategies. You'll learn to gather and analyze data using such research methods as surveys and focus groups, and other research strategies and you'll master the art and science of translating data analyses into communication plans clients can put into action.
Upon completion you'll be well prepared and qualified for a position as a research analyst or research manager in a marketing research company or the research department of firms specializing in advertising, public relations, marketing communication research, political campaigning, health communication and international communication. Check out our degree requirements.
Program at a Glance
What you will learn
Rigorous academic research methods and their application.
Students will learn how to influence a target audience by getting inside their heads, extracting information about their values, likes, needs and wants and matching that knowledge to communication strategies. 
Coursework includes
Contemporary Mass Communication, Communication Theory, Communication Research, Advanced Communication Research, Sampling Design and Measurement Techniques, Technical Writing for Communication Research, Communication Writing
Electives include: sequence of research-based courses that constitute a specialty in big data/social media analytics
---
The right city, the right school.
One of our greatest resources is the city we're named for. Boston is the nation's seventh-largest media market. Some of the world's leading advertising, media, marketing, and communication firms call it home. It's a major center for high tech start-ups, medicine, finance, biotech, and education. There's great culture, sports, entertainment, and social life. Boston is a stimulating environment with a wealth of interning and career opportunities.
And, then, there's Boston University itself, a member of the Association of American Universities (AAU), an elite organization of 61 leading research universities in the United States and Canada. In the Boston area, only Harvard, MIT and Brandeis are also members. Take advantage of the extraordinary resources and intellectual opportunities. And join a vibrant, diverse student population.
---
Join our (very successful) ranks.
What does it take to succeed in communication research? Patience. Attention to detail. Organization. Creativity. Working well in a team and under pressure. And a desire to find out what's in people's heads. If that describes you, welcome. You may be ready to join the many College of Communication alumni who have gone on to long, successful careers as leaders in almost every area of communication.