Producing filmmakers. In just one year. Cinema & Media production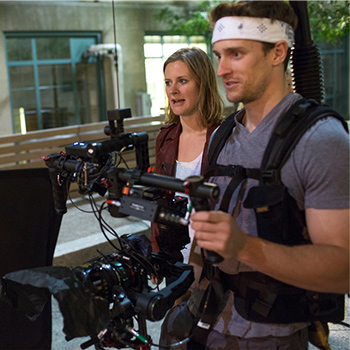 Focused and intensive, the Boston University Master of Fine Arts program in Cinema and Media Production is unique. You finish in one calendar year—three semesters—instead of two years as at other programs. That's because there are no introductory courses. Ours is a professional-level, terminal program designed for experienced, highly qualified filmmakers seeking to take their careers to the next level.
---
Ready to tell stories cinematically?
Each year we choose a select group of directors, producers and cinematographers who work with each other, along with students from our MFA program in Screenwriting, on six productions over the course of 12 months. You specialize in your chosen discipline, but every student is fully immersed in a collaborative environment dependent on cross-disciplinary teamwork.
The first two semesters (fall and spring) lay the groundwork for production. You take advanced courses and begin working on your thesis right away. Collaborative workshops and mentored development of your thesis project further prepare you to produce. The third (summer) semester is devoted to production, editing, and completion of your project.
You may work on a short film, a television pilot, a web series pilot, or another innovative media project. Along the way, you'll receive one-on-one teaching from directors of network series, movies, feature films and documentaries. Mentoring is intense and personal.
After twelve months, you leave with a professional quality, groundbreaking media project. You'll also have a keen understanding of how to tell stories and create media for today's world.
---
---
Shorter duration, long on results.
BU's one-year program saves you time (and, not coincidentally, money). But if the success of our students and alumni is any indication, it works.
Our graduate students have received numerous, prestigious awards and accolades, including recognition by the Student Academy Awards, the American Society of Cinematographers (ASC) and American Cinema Editors (ACE). Four students have placed first in the ACE student editing competition and our students' films have screened at festivals all over the world. Professionally, our alumni have gone on to success throughout the media business in positions from executive to creative.
---
Is it for you?
The BU MFA in Cinema and Media Production is for professionals who are driven, adaptable, fresh thinking and ready to lead. You must have experience or an undergraduate degree in film, television or new media. You must demonstrate exceptional skill. If that's you, prepare to take the next step in seriously making your mark professionally.

---
Boston University's College of Communication has created an innovative, one year Master's of Fine Arts in Cinema and Media Production. Get more information on our graduate programs and the application process.