Create success. Film & Television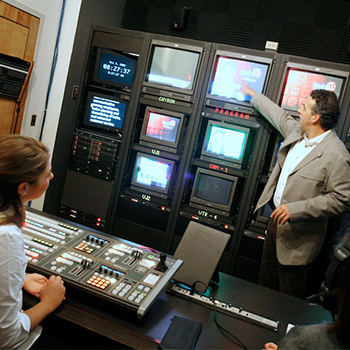 Everyone likes to watch movies and television. You, on the other hand, want to create it. And create it well. Learn how in the Boston University College of Communication (COM) Film & Television program.
First and foremost, you'll hone the art of storytelling. You'll study writing, image creation, managing and producing, and the theory and history of film and television while developing a deep understanding of the motion picture medium. You'll acquire the knowledge and skills needed for a career in film or television.
---
---
Your degree. Your way.
Our Film & Television program leads to a Bachelor of Science degree. How you get there is largely up to you. Certain courses are required of all majors to provide a broad foundation in motion picture writing, visual literacy and studies. But the majority of your courses can be tailored to fit your interests and career goals. Choose your focus: Production, Screenwriting, Film and Television Studies or Management/Producing. Take additional courses in production or screenwriting. Pursue a minor from the vast offerings across BU. It's wide open.
Film & Television classes are generally small so you work closely with our faculty of active, internationally acclaimed writers, researchers, filmmakers, scholars and new media professionals. You may even have the opportunity to work on a faculty production as an assistant on camera, lighting, sound, casting or editing.
---
Your first job is our Job One.
This is an in-depth program that prepares you for success in the field. It's hands-on and designed to give you practical knowledge and skills that can be applied right away.
Our student-operated TV production and media service, BUTV10, provides the opportunity to create television programming, live streaming and on-demand content in one of several sound stages. You can sharpen your directing, editing, lighting and camera with access to COM's state-of-the-art camera equipment and facilities for video, film and editing.
Our internship program is a key part of your experience. Travel to Los Angeles, London or Sydney to work and learn from top professionals in the entertainment industry. The BU in LA Program, located on the BU campus in the epicenter of the entertainment industry, is especially popular and frequently leads to finding your first job in the industry.
COM's vast alumni network is also a great resource for networking, job searching and industry advice. You'll find our graduates in influential positions throughout the entertainment industry from executives, producers and new media innovators to screenwriters, directors and editors.
---
COM, as in community.
COM, of course, is short for "Communication." But it represents more than just a field of study. At COM you're part of a vibrant community of talented students and faculty who share a passion for storytelling and learning. Students form close bonds and work together on productions and team projects. Mentorships turn into lifelong friendships between professor and student.
Your even greater community is Boston, a leading international city and the seventh-largest media market in the country. Here is a thriving film industry, world-class museums and a vibrant performing arts scene. Fenway Park is practically in BU's backyard. And, as a major high-tech center, the city remains at the forefront of communication innovation.
---
Tell stories visually.
Whether you focus on writing, directing, editing, producing or cinema and media studies, it all comes down to telling stories people want to see and hear. It takes a curious, creative mind and a great deal of dedication. If you have those, join COM; we'll turn you into a great visual storyteller.