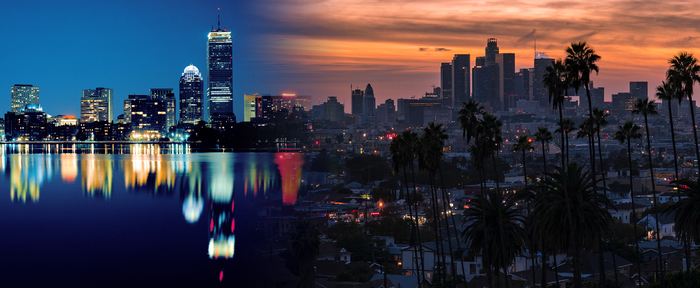 Aspiring screenwriters faced a dilemma: How do I get a master's degree with the rigor of a top east coast university while opening doors for me in the entertainment industry on the west coast?
A revamped Master of Fine Arts from Boston University, professors believe, offers the answer.
Last week, BU's Office of the Provost approved changes to the College of Communication's MFA in screenwriting so graduate students would study three semesters in Boston and their final, fourth semester on BU's Los Angeles campus.
Previously, screenwriting graduate students would take all four required semesters in Boston and could take an optional fifth semester in Los Angeles through the university's Global Programs, at additional expense.
"Our new screenwriting MFA delivers the best of both worlds," says Scott Thompson, assistant professor of film and director of the screenwriting program, "a learning environment on the east coast and a working-world experience on the west coast."
During their fourth semester in Los Angeles, students will gain practical experience with an industry internship alongside two advanced courses, "The Writer in Hollywood 2" and "Careers in Hollywood" featuring weekly presentations by industry professionals.
Students will arrive well prepared after three semesters at BU's Charles River Campus. The new curriculum emphasizes a more rigorous, varied writing experience with a balance between television and film, while making courses in production optional.
"Our students become part of a close-knit community, something we nurture with small classes and opportunities to collaborate," adds Debbie Danielpour, assistant professor of film. "They're traveling the same path as writers, and now that path will take them together, farther."