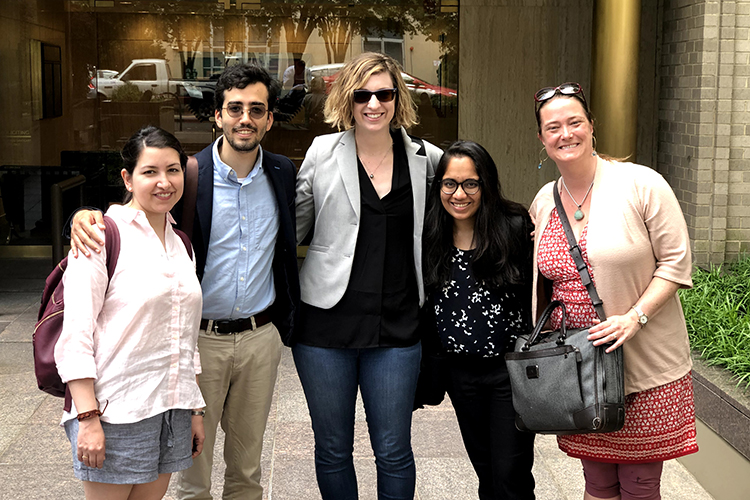 When Michael Cohen, President Trump's so-called fixer, testified before the U.S. House Oversight Committee in February, members of Congress sparred over exactly what funding from foreign governments witnesses are required to disclose, based on a "Truth in Testimony" rule it enacted four years ago.
A new investigation by Boston University data journalism students published today found that some Congressional committees aren't following their own rule.
COM students Christine Lytwynec, Flaviana Sandoval, Diego Marcano and Jahnavi Bhatia, working under the direction of COM Associate Professor of the Practice Brooke Williams, created a computer program to automatically capture disclosure forms and other publicly available data about who has testified before committees from the U.S. House of Representatives Document Repository. They entered the content of the disclosure forms manually into a database, then verified the data through an application they built to ensure accuracy and fix errors.
The final database includes details about who testified at any House committee hearings from 2011 through 2018, and tracks how those witnesses responded on their Truth in Testimony forms since Congress created the rule in January 2015.
The results of their work, published by the nonprofit Investigative Reporting Workshop, represents a deep dive into the many experts who testify before Congress. Potential conflict-of-interest issues arise when those experts don't reveal funding from foreign governments that may, or may not, influence their testimony.
The students wanted to know: What happens when an expert or scholar doesn't receive direct funding? Are they required to report funding given to the organization where they work even if they themselves don't receive money?
It depends, they discovered, on whom you ask. Committees and witnesses might not be specifically violating the law, but they are clearly not adhering to its spirit, they found. Those they interviewed who have testified are sometimes confused about the requirements, or believe their employers filed disclosure forms on their behalf — and yet still choose not to reveal some funding sources and the clients they represent.
Working out of the Washington offices of IRW and Boston University, Williams and her students conducted field reporting and attended congressional hearings — splitting up to be in different chambers simultaneously while Williams provided real-time details on disclosure forms and potential conflicts of interest. They also interviewed scholars and attended events to better understand how policy was shaped by think tanks.