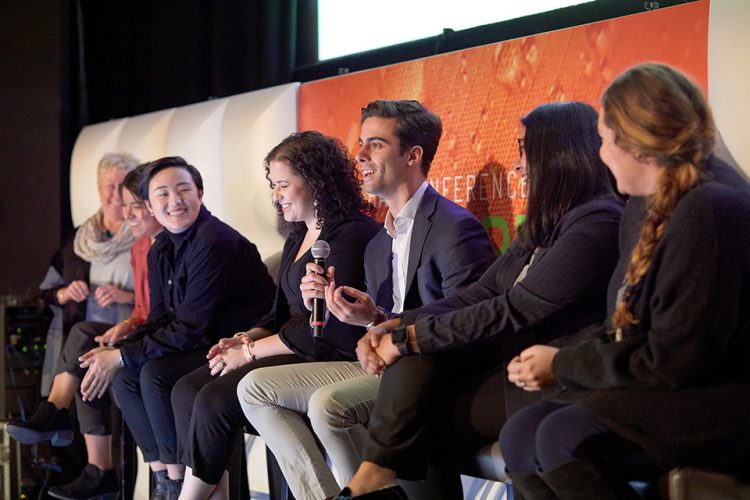 A half dozen students from Boston University's College of Communication offered their take on the "future of talent" during a keynote presentation at a gathering last month in Boston of top creative and advertising talent for the annual In House Agency Forum conference under the theme "Future Proof."
"The whole topic was the future of the workforce," said Arielle Kimbarovsky ('20), a COM student studying advertising and one of the presenters. "Younger professionals are looking for a culture fit, and a place that is tuning into their needs like compensation, benefits and mentoring.
"Gen Z and Millennials are looking for strong creative work, and one concern about in-house agencies that is that creative opportunities may not be as strong as with an outside agency," she added. "They want those out-of-the-box ideas and the freedom to execute them."
Before more than 300 attendees, the students – Kimbarovsky, Ariel Flugum ('19), Spencer Shafer ('20), Nitya Ravi ('19), Brie Li ('19) and Daisy Jimenez ('19) – fielded questions about job prospects at in-house advertising agencies, internships, the most-critical skills and the best channels for reaching younger audiences. All are executive board members of AdLab, the oldest student-run advertising agency in the country.
"The presentation was a great opportunity to introduce this community to AdLab, as well as how it fits into COM's broader advertising coursework," said Pegeen Ryan of COM's advertising faculty who, with Tobe Berkovitz, moderated the panel. "But more importantly, it was a chance to showcase how smart, poised and ready for the workforce our students are. They did a fantastic job."