With graduation fast-approaching, seniors are inundated with every emotion: bittersweet nostalgia, pride, and anticipation for the future. They're yearning to make their mark on the world, while wishing to relive freshman year (for just a day). They're ready to embark on a new beginning, but not entirely ready to close this chapter. In other words, graduating seniors are feeling all the feels
—

and rightly so.
Nick Neville and Claudia DeTrempe, both COM Ambassadors and 2018 Blue Chip Award recipients, penned goodbye letters to COM.
"College is a crazy time. You'll meet lifelong friends and lose some others. You'll be thankful for your newfound freedom and you'll miss home. You'll try new things and fall into old habits. You'll stay up until 3 in the morning laughing with your roommates and turn to those same people when you experience hardship and heartbreak. There aren't many constants during this time in your life, but for me, the one constant has been COM.
COM showed me the way when I arrived on campus eager to start writing about sports within 30 seconds. COM introduced me to my roommates, one of whom I met through BU's independent newspaper, the Daily Free Press, and another whom I befriended within the first month of college. COM allowed me to grow and adapt to a constantly changing journalism landscape through its robust curriculum. I got experience at the anchor desk, as the producer of a live half-hour newscast and as a reporter for the largest tech conference in the world in Las Vegas. COM gave me a second home at Undergraduate Affairs, where I've worked alongside some of the most dedicated and compassionate people in the building.
My FreeP fam will always have a special place in my heart. And the COM Ambassador program has introduced me to so many driven, passionate and caring people that remind me every day why I chose COM almost four years ago. I've loved the experience of mentoring incoming freshmen and showing them the ropes; some have become my closest friends at BU. To my fellow CAs, thank you for inspiring me with your talent and creativity. COM really is like a family. Everyone in the building, from your classmates to your professors, is there to support you as you chase your dreams.
During my time as a COM Ambassador, I've had the opportunity to explain to families from around the country why I love COM. And it's not that difficult a task. I fell in love with COM the second I took a tour of the building during senior year of high school. As I write my final COM blog post just over a month before graduation, it's only fitting that it happens to be the same day as the COM open house.
I've worked open houses since my freshman year in high school, and I remember how impactful my COM open house was. I'm still good friends with two of the kids I sat next to that day. Listening to Professor McKeen lead the journalism department presentation at today's open house for the class of 2022 (WOW) made it feel like my COM journey had truly come full circle.
I heard him talk about all the professional opportunities at COM, BU's strong relationship with major media companies in Boston and some of the work of our exceptional faculty. I saw myself in a wide-eyed freshman as he asked what sports journalism opportunities are available here. The answer is plenty. And side note: COM just hired a local sportswriting celebrity – Michael Holley of NBC Sports Boston and formerly of WEEI. Holley's hiring is just another example of COM's commitment to providing their students with only the best.
McKeen's speech resonated with me when he told prospective students and future journalists that "journalism is the purest form of public service because you're giving people the information they need to survive." This passion and fervor for the field excites me every day I walk into COM, and gives me the confidence to pursue a career in the news industry.
A soon-to-be member of the class of 2022 told me today at the open house that I was part of his decision to apply early decision to BU. My face lit up. This is why we do what we do. I'm excited for that student, and quite frankly, after the open house, I wish I were in his shoes. I wish I could come to COM, pick a COM ambassador and do it all over again. But my time is almost over, and I wouldn't change a thing. I'm thankful every day that I chose COM, and I know it'll always be home." – Nick Neville
---
"Dear COM,
Well, I've already cried just thinking about writing this. So let's bring on the water works. As I'm writing this, it's 47 days until graduation and I'm a grateful, happy, yet nervous ball of stress. I really don't know if I can put into words how important COM is to me and how it has shaped my college experience. I would not be the woman (BU Boss Lady, perhaps) I am today without the friendships, love, and support from within my school. COM is my home and will hold a very special place in my heart.
I walked into BU knowing I wanted to double major in Film and Television and Advertising. And now I am so close to finishing that dream. There have been changes to that dream along the way. I came in knowing I wanted to be a producer, but I rediscovered my love for production and found a new confidence behind the camera. Confidence and new skills that have opened so many doors in Boston, Chicago, New York, London and Los Angeles.
I used to joke that I spent more time in 640 Comm Ave than in my own dorm. And while that's an exaggerated truth, COM has really been my home. From the late night editing sessions to the early morning radio shows, my heart swells when I think of this wonderful building full of storytellers. You've brought me so much joy and the best experiences and friendships a girl could ask for. And now as my story is changing, I have to say thank you.
To my lifelong friends:
From the day one friendships to the London clique, I could not be more lucky to have such amazing, creative, and powerful friends. These are people who not only make me laugh and smile, but they inspire me with their creativity and non-stop hard work. These are the people that will not only be my friends for life, but on my board of directors one day. I cannot wait to see what the future holds for each and everyone of you. And I know it will be amazing!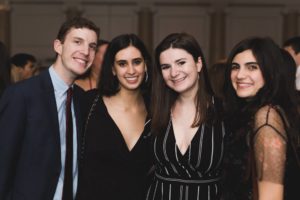 To WTBU:
Thank you for being the strongest group of people I know. You've taught me how to bounce back and have given me life long friendships. You've been here for me through the 6am show tunes, pop culture fan girling, and even 2am half yawn half smiles. You truly are the Beat of Boston University and I can't thank you enough for providing a platform for so many voices.
To the BU Boss Ladies:
That was a wild ride and boy I am I so lucky to have worked alongside all of you. You are the most incredible group and I am amazed by how you create such a balance with professionalism and passion.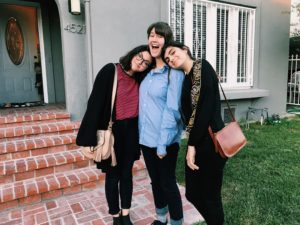 To COM Undergraduate Affairs:
Thank you for always being a source of happiness in my life. I have never once dreaded going to work. Instead, I looked forward to laughing so hard I'd fall out of my chair and gaining the inside scoop on my beloved school. Thank you for also being there during the highs and the lows. You are the best support system.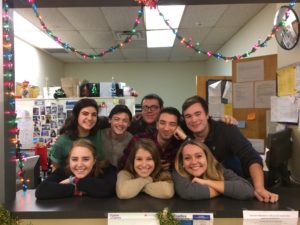 To the COM Ambassador program:
I don't know what to say. Thank you for being my outlet and for giving me a family. I never thought I'd find such a passionate group of people who love COM so much, but you all make me fall in love with this school and you every day.
So, thank you COM for everything. I love you with all of my heart." – Claudia DeTrempe
To read more stories from our undergraduate representatives, head over to the COM Ambassador Blog.