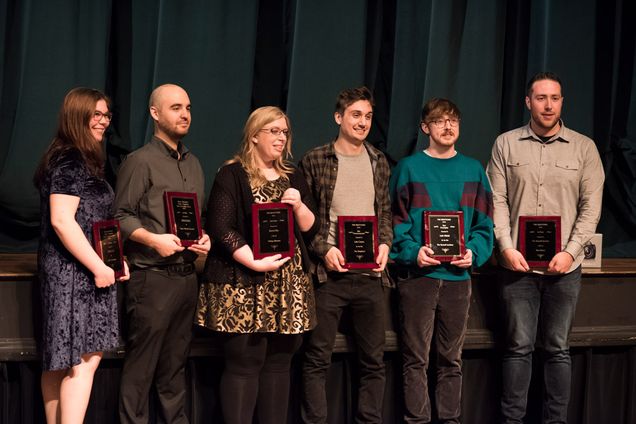 At the Boston Redstones on March 31st, Wes Palmer ('17) nabbed top prize for directing The Boswell Incident, a science-fiction comedy about a young deputy sheriff forced to launch an investigation after her ex-boyfriend's brother is abducted by aliens. The film, which drew the most laughs of the evening, also won best screenplay, by Luke Shields (COM'14), and best sound design.
Palmer raised more than $11,000 from a Kickstarter drive to finance The Boswell Incident. The 25-minute film, with a crew and cast of about 30 people, took eight months to produce, Palmer said after the ceremony. It was his second first-place Redstone win in three years: he also won in 2016 for directing You Are Here, a feat enjoyed by only two other alums over the past 16 years. "I like to think every film I make gets better, that I'm always improving," Palmer said.
Second prize was awarded to Butterflies, directed by Melissa Bennett ('17), a Black Mirror-esque short film about a young woman's struggle to reclaim her life after a shooting leaves her with PTSD.
"I suffer from depression and anxiety, and have since elementary school," Bennett said after her win. "I wrote the film after a really horrible panic attack I had that left me out of commission for a full 24 hours. I don't feel like we talk about mental health issues, and whenever we do, it's in the wake of something like a mass shooting. Anything can trigger you. What I wanted to do with this film was showcase what that feels like."
The documentary The Shepherd, directed by Luke Catena ('17), took home third-place directing honors, as well as awards for best cinematography and best editing. The film follows a shepherd in the ancient Yongtai Village in China's Gansu Province.
Catena shot The Shepherd while he was abroad with Looking China, a collaborative program between Boston University and Beijing Normal University, which sponsors aspiring filmmakers on two-week summer trips to China. During his acceptance speech, he thanked Geoff Poister, a COM associate professor of television, who accompanies the BU students on the trip. "It was an incredible experience," Catena said.
At the Los Angeles festival on April 12th, Bennett took home best picture and best screenplay for Butterflies. Catena, director of The Shepherd, won second prize for best picture, along best cinematography, best editing, and best sound design. Palmer placed third for best picture of The Boswell Incident, which had previously placed first in Boston.