Journalism students, veterans of the trade, and all those in between gathered at The Power of Narrative's 20th annual conference this March to acquire new industry skills, network, and take inspiration from some of the world's most acclaimed storytellers. Attendees heard from the likes of Brian McGrory, Editor of The Boston Globe and Lydia Polgreen, Editor in Chief of The Huffington Post. They took notes from Mark Kramer, Eric Moskowitz, and Ellen Gabler. They witnessed famous investigative reporters, Emily Steel and Sacha Pfeiffer, meet for the first time as they shared anecdotes and strategies for breaking down systems of power that enabled years of complicit abuse.
And they laughed, leaned in, and wiped away tears as featured speaker and New York Times bestselling author, Roxane Gay, spoke about her life as a writer. She addressed her history of sexual assault and grappling with body image, and how she found solace through her book, "Hunger". The memoir delicately though deliberately confronts the horrifying details of her past, the ones that have haunted her the most. "You have to shape that painful truth in a way that allows it to be read", she said. Never glorifying or sensationalizing, but writing with raw honesty was and is always her aim.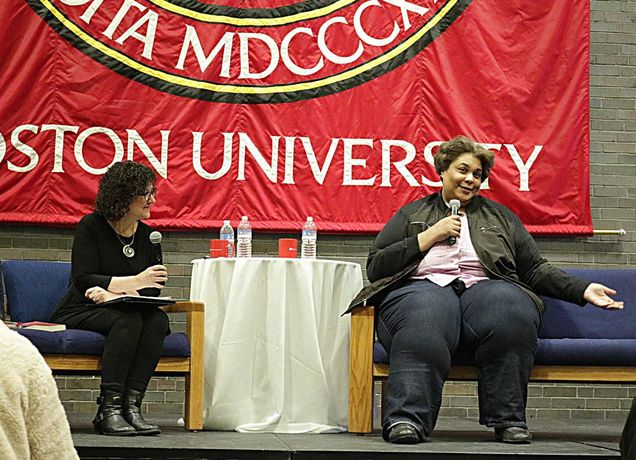 Regardless of the form of her work, including fiction, non-fiction, comics and essay collections, she says the function is very similar. "The common thread is storytelling." She sees sparseness as a writing tool, and never overworks her work, but will revise sentence structure in her head. "I wish more writers took time to listen to their own work."
Gay discussed dealing with Internet trolls, knowing your worth as a professional, her lack of a disciplined writing practice, and how she is plagued with procrastination, just like us.
But perhaps some of the most emotionally rousing moments happened when the microphone was turned over to the crowd.
K. Sophie Will ('20) unabashedly approached the front of the room to ask Gay whether she should expect to be discriminated against as a journalist due to her weight. "I've been told my size is going to prevent me from breaking into the field. Personally, I don't understand what my body size has to do with my writing," said Will.
"First of all, girl, you're fine," replied Gay. "Anyone who has a problem with you as you are, it's them, not you. And there's not one single thing you need to change." She reassured her that "yes, you will get a job in this industry."
Her matter-of-fact and unapologetic aura spread through the room like wildfire, galvanizing the audience to overcome their own adversities, and be devoted to their dreams.
"Don't sit around waiting for confidence, or you're never going to do anything. Don't say you want to be a writer. Say you are a writer."
Recovering from very exciting @narrativeBU conference. Highlights: The courage, tenacity and sheer brilliance of @lpolgreen and @rgay, the passion of @GlobeMoskowitz, the engaging performances of @egabler, the curiosity of @MarkBowdenwrite. Hope to see you next year! #NarrativeBU

— Pascal Sigg (@paggaepigg) March 26, 2018
The stories being shared at the #narrativeBU conference right now are inspiring and powerful. I'm grateful for the chance to hear them. pic.twitter.com/rATEZy9M12

— Julia Maruca (@MarucaJulia) March 23, 2018
It was inspiring to hear @SachaPfeiffer and @emilysteel talk about the challenges of reporting on sexual assault, comparing their experiences reporting on abuse within the Catholic Church 16 years ago and the media industry today.

— Amy Gorel (@AmyGorel) March 25, 2018
Being a journalist is like having a superpower of asking hard questions and holding people in power accountable, says @emilysteel #narrativeBU

— Jon Collins (@JonSCollins) March 25, 2018
"Narrative is not just long form writing. Narrative should be infiltrating every kind of reporting there is." Brian McGrory, editor of the Boston Globe at #narrativeBU

— Nikita Sampath (@nikitavishaka) March 24, 2018
"All journalism should be alternative journalism." —@CharlesPPierce at the closing keynote at #narrativeBU pic.twitter.com/07x8X6f1gt

— annmarie (@realAMWrites) March 25, 2018
"The power of narrative opens eyes," @mitchellzuckoff says closing out #narrativeBU. "True stories are like pry bars." Thank you @COMatBU & @narrativeBU for an incredible weekend of thinking and storytelling. The state of journalism is strong.

— Nick Neville (@NickNeville_) March 25, 2018
Written by: Emma Guillen