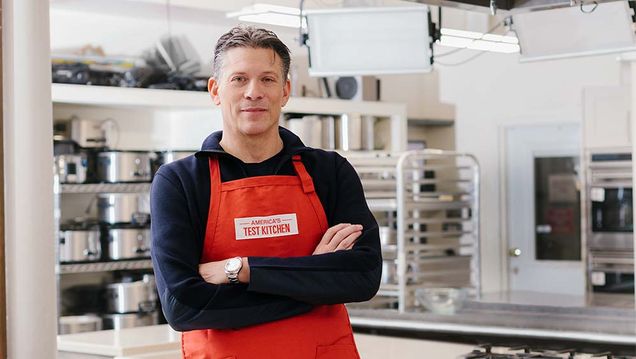 Watching the CEO of America's Test Kitchen carefully peel a ginger root, one thing is clear: David Nussbaum is no professional chef.
A media veteran who founded his own trade magazine before he turned 30, Nussbaum (COM'79) stands in the bustling main test kitchen at the Brookline-based company, watching intently as a professional chef—one of more than 50 who develop America's Test Kitchen recipes—shows him how to quickly strip root after root of its light-brown exterior. (The secret? Use the round edge of a small spoon, not a knife.) Since becoming the company's first CEO in 2015, Nussbaum has made a concerted effort to get into the kitchen. Like millions of tentative home cooks, he's been relying on America's Test Kitchen's thoroughly vetted recipes to help him avoid culinary catastrophes.
He is especially proud of his American Chop Suey, a dish he made using an America's Test Kitchen recipe. "Let me show you a picture of it," he says. He's determined to find it. For the next five minutes or so, he hunts through his computer for a photo. He gets halfway through a question about filming new shows for PBS without longtime host Christopher Kimball before—bingo! "Here it is, I found it," he says with excitement. "Here's what it looks like in the book, and here's mine; doesn't it look good? I love this dish, it's so good. Glad I found that."
Consistently allowing home cooks to replicate that feeling of triumph—without resorting to complicated techniques or hard-to-find ingredients—has been at the heart of America's Test Kitchen's success. For more than two decades, the company has honed a distinctively methodical approach to creating recipes and assessing kitchen tools. It produces two popular PBS shows, America's Test Kitchen and Cook's Country, two magazines with more than a million paid subscribers and no ads, scores of cookbooks, an online cooking school, and more.