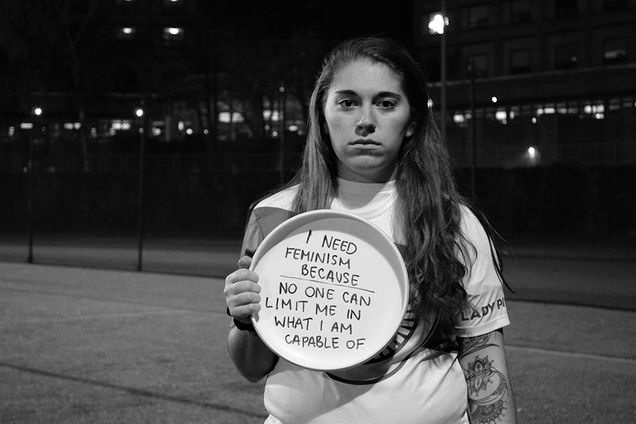 As the sun was setting during a late afternoon practice of the BU men's and women's Ultimate Frisbee teams last month, Teddy Kahn (CAS'17), vice president of the men's team—the Ozone Pilots—and his fellow players stopped to watch their colleagues on the Lady Pilots team. The women were doing something out of the ordinary.
A stack of discs sat near them, waiting to be inscribed. The women got to work penning messages, then held their discs aloft as each of them was photographed for a campaign they had launched, titled "I Need Feminism Because…" The campaign, which Lady Pilot cocaptain Jacki Salustro (COM'17) says was created after some players were feeling disappointed and fearful following the presidential election, is designed to draw attention to the need for gender equity.
After the election, says Salustro, "I remember thinking, wow, we haven't come as far as I thought. We're in this college bubble where you think that everyone is open-minded and that we've come so far in how we see things and see people."
When the men realized what the women were doing, they decided to join the photo campaign. Soon, photos of both male and female players with their inscribed Frisbees were posted on the women's team's Facebook page.
The campaign was suggested by rookie Apryl Hsu (CGS'17) in the wake of Hillary Clinton's election loss. It was "seeing the lack of morale among women," Hsu says, "especially the women on our team who are so passionate about feminism and equality," that made her bring the idea to the captains.