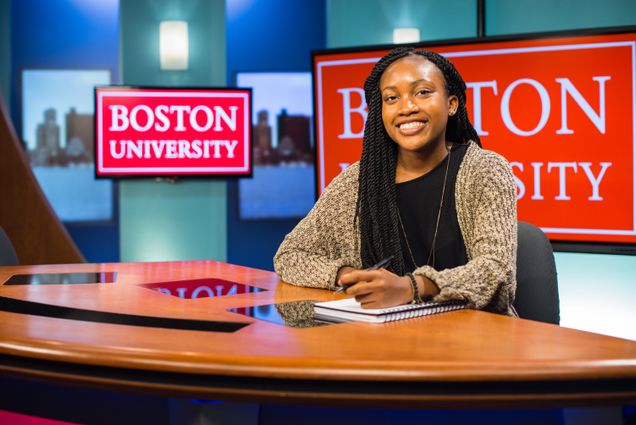 Sadiah Thompson (COM '18) is a current COM student studying journalism. Read about how she found her place in COM and has branched out into various journalistic mediums.
What made you decide to major in journalism?
I became interested in journalism in middle school. I was fascinated with magazines. When I came to COM I was still figuring out what I wanted do, but that quickly changed a when I joined "The Wire," a BUTV10 production. I was motivated to come into the studio at 8am almost every morning to shoot our 4-minute news broadcasts. Fast forward two years later and now I take on the role as one of the producers for the show. I really love being able to come in every morning and know that there's a new story to tell. For me, that's the true beauty of journalism.
What do you feel is special about the COM program?
There are so many elements to COM. My favorite parts are the extracurricular activities. It's really encouraged when you first start freshman year. There are tons of different opportunities you can take advantage of and that's where COM is really special. I was able to find my place here because of these activities. I never thought I would do something like broadcast journalism because I was so focused on print journalism. But now, I am producing a broadcast news show and I joined the Daily Free Press, so I am also doing print journalism.
Is there a specific professor or class that has had a positive impact on your time at COM?
Last year, I took a class with Professor Graves, JO-250, The Fundamentals of Journalism. She treated the class like a newsroom. She took the time to get to know us, students and also helped us perfect our craft. You definitely need a push in journalism and she did that for me and other students. In the real world you will get a lot of criticism as a writer but she helped build me into a better writer and that was really beneficial for me.
What would you say to prospective students hoping to study journalism at COM?
Go outside your comfort zone. There is so much to explore. There are so many opportunities here at COM and in Boston. Branch out and learn different types of journalism.
Written by: Tatiana M.R. Johnson
This interview has been condensed and edited.
Learn more about Journalism