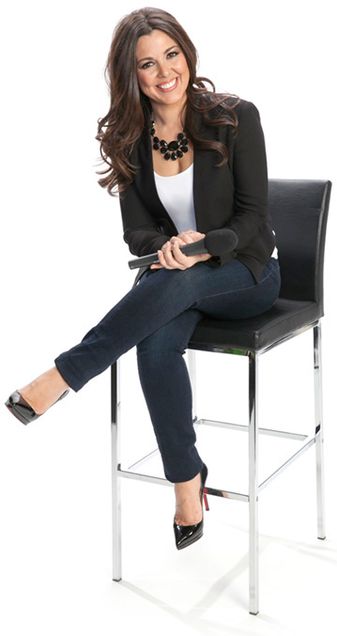 Elisa, first off, would you tell me what you currently do for work?
I am the entertainment and features reporter for News 12 Long Island here in New York. I also do their traffic in the morning. In addition, I contribute feature, entertainment and celebrity articles to a bunch of different magazines. I do expert work at places like the Huffington Post. I also just wrote my first book, so I'll be a published author in a few weeks!
Where did you see yourself going in your career as a student? How did your actual professional path differ from this?
I always wanted to do what I'm doing now. I had hoped that I'd be doing it at a national level, which I still haven't achieved yet. It's a lot more difficult of a climb than I ever expected it to be. I was always under the impression that if you work as hard as you can, you move ahead and move up. I'm happy where I am, but I've learned that in this business that isn't always the case.
What advice would you give to a student or new graduate looking to follow a similar career path?
I think that students and recent grads now have so many more tools available for them. For example, if I was in school right now, I would certainly be doing my own video segments and posting them on YouTube, I would be heavily into social media, and I would have a blog. There's so many things that you can do to get your own experience while waiting to land your first job, or even after. Those things just didn't exist when I was a recent graduate.
In what ways did networking help you achieve your career goals?
For me, my BU connections got me my internships, and my internships really set me on the path to my career. I did a program that we used to call "Day on the Job." I don't know if that exists anymore. I was set up with a BU alum over at NBC and she helped me get my internship at the Weekend Today show, which gave me a love of morning TV and news.
A BU sorority sister helped me get an internship at VH1. It was my connections at BU that really got me started. Then, once I was in my career and I decided that I wanted to do entertainment and celebrity journalism, my friends at BU who were in Public Relations really helped. They gave me access to red carpets and to events that I wouldn't otherwise be able to access. And they still do.
You mentioned you have a new book coming out. Could you tell me a little more about it?
While preparing for my wedding, I took a great interest in health, nutrition and weight loss. I felt like I was in the best shape of my life with the help of my trainer and nutritionist. So many people had watched me transform, because I'm on TV every day, and had an interest in how I did it, so my nutritionist and I wrote a book called The Bridal Body. It's the every-bride's guide to wedding weight loss. It's my first book, and I hope it's the first of many.
What was your most surreal experience on camera?
For me it's always meeting a legend, like Julie Andrews. That was surreal because she's on a level all of her own, she's a Hollywood icon and legend. I've met a lot of big celebrities but she just stands out.
I've also got to do a lot of cool things, like play tennis with Venus Williams. I flew in the national guard in an airshow, which was just a wild experience because I don't like heights. I've had the opportunity to do things that I'd never ever in a million years think I would do.
What is your favorite part of your job?
I love meeting ordinary people who have extraordinary stories. I love meeting the average joe down the block, and all the sudden you find out he has a unique talent or this crazy collection or does something fantastic for charity. Those stories are my favorite. I love shining a light on stories that would never be recognized otherwise.